22 Sep 2021
Mayor Lightfoot Releases 2022 Budget Proposal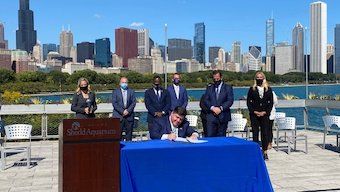 Budget includes $1.9 billion in key investments and no new taxes—an investment-based recovery strategy with a foundation set on greater opportunities for rebuilding Chicago into a safer, stronger, and more prosperous city for all of Chicago's residents.
Leveraging resources from the City's Corporate and other local funds, ARP LFRF, and bonding authority, the 2022 budget and Chicago Recovery Plan create a once-in-a-generation series of investments of more than $1.9 billion to invest in building a better Chicago. Some key investments include:
$635 million to maintain and expand affordable housing
$26 million in arts & culture investments to expand place-based arts and events opportunities
$86 million for mental health to increase access to mental health services
$135 million for direct violence prevention initiatives to increase community safety
$188 million in environmental justice and climate investments
$150 million for youth services and jobs to expand opportunity for youth to access employment and out-of-school programming
$166 million in community development initiatives to drive equitable growth and job creation.
$87 million in workforce and small business support to expand economic opportunity
$144 million in assistance to families to connect families with critical resources to improve health outcomes and increase opportunity
$202 million for homelessness initiatives to expand services and housing opportunities for those experiencing homelessness.
$144 million in other key initiatives including parks and infrastructure, food equity, and tourism and industry support
Find out more here on City of Chicago Gov Press
Chicago Build is the leading construction show for Chicago and the Midwest region. Gain access to 9 specialized summits, 200+ exhibitors, 200+ speakers and connect with 15,000+ registered visitors.