30 Aug 2022
Massive Data Center Project Brings 1,000 Construction Jobs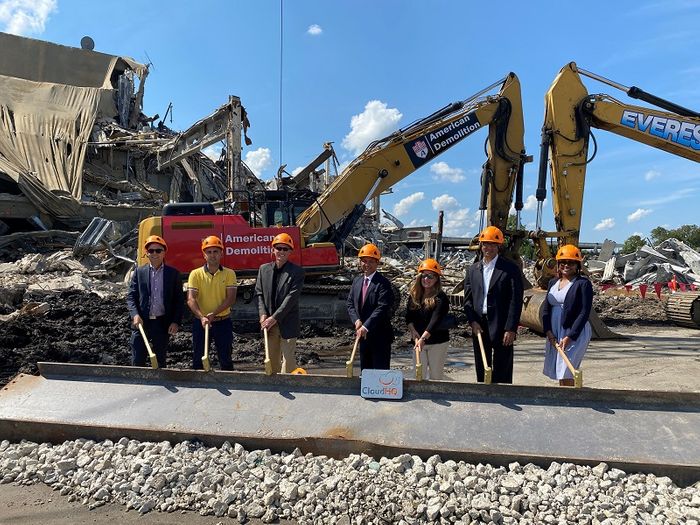 CloudHQ is building a $2.5 billion, 1.5 million sq. ft. data center campus – one of the largest such facilities in Illinois.
As construction of the first building kicks off, over 1,000 construction jobs will be created over a two-year period. Later phases of construction contemplate an additional 2,000 full time construction jobs.
"Companies like CloudHQ continue to look to northern Illinois and our service territory thanks to the unparalleled access to clean, affordable and reliable power that is essential for meeting the demands of today's economy."
Construction is underway on the eighth new data center project that will include a new onsite substation, extend high voltage lines, and provide new technology investments to help CloudHQ meet growing demand for data center services supporting the digital economy.
"ComEd is thrilled to support the launch of one of the largest data centers ever seen in our state, as part of our ongoing work to power growth by Illinois companies who continue to bring jobs and investment into the communities we are proud to serve," said Gil C. Quinones, CEO of ComEd.
The first phase is set for completion in 2024, with an additional two buildings to be added over the next three to five years depending on demand.
CloudHQ will develop a hyperscale data center campus – a term which refers to the largest and most efficient type of data centers, which typically house hundreds of thousands of computer servers in each building. The three-building campus will be built to a LEED standard, highlighting the company's commitment to sustainable development.
"The demand we see for this location is already extremely encouraging, and will be supported by a new dedicated on-site ComEd substation that will allow us to scale to power future customer demand," CloudHQ COO Keith Harney said in a statement. "Working with the Village of Mount Prospect Board of Trustees, the Mayor and the Village Staff has been an excellent experience and we thank them for their cooperation to realize our vision for the site."
The project has received local approvals by the Village of Mount Prospect to begin development of the site, which will repurpose the 50-acre, former United Airlines headquarters and operations center that was vacated in 2007. The new data center makes good use of the former United world headquarters site and will create new jobs and investment for the community without adding significant vehicle traffic to the area.
"CloudHQ's new project which will create a significant number of new jobs and local investment for the area. New investments by CloudHQ and other data centers coming to our area is a testament to the strong and dependable grid, talent and infrastructure found only here in Illinois," said Rep. Mark Walker, who represents the 53rd District including Arlington Heights and Mount Prospect.
"The data center boom has landed in Mount Prospect, where village officials helped break ground Tuesday on a $2.5 billion data center campus at the former site of United Airlines' world headquarters.
Read more on Chicago Construction News
Attend Chicago Build Expo, the largest construction, design and real estate show for the Midwest. Gain access to 12 conference tracks and AIA CES approved workshops, check out 250+ exhibitors, learn from 350+ high-profile speakers and connect with 20,000+ built environment professionals.