08 Oct 2019
Major step in West Lake corridor rail project. The proposal would provide transit service between Dyer and downtown Chicago and will cost hundreds of millions of dollars.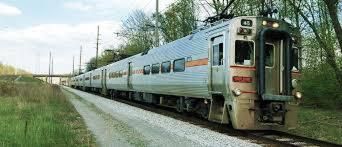 LAKE COUNTY - Organizers behind the West Lake Corridor commuter rail project have received word that the proposed project has been pushed into the engineering phase by the U.S. Federal Transit Administration. That step puts the rail line extension project significantly closer to federal funding, according to our partners at
The Times of Northwest Indiana.
The West Lake Corridor Project involves an eight-mile extension of the South Shore Line between Dyer and Hammond. The stretch would ultimately connect with the existing South Shore Line and the Metra Electric District's line to the north.
The proposal would provide transit service between Dyer and downtown Chicago. The project, which includes the addition of a Gateway Station in north Hammond, will cost hundreds of millions of dollars.
"That really is the FTA's stamp of approval on the project," Northern Indiana Commuter Transportation District President and CEO Michael Noland said.
Noland said projects approved for the engineering phase of the grant program have ultimately received grants, unless being withdrawn by their sponsor.
"This success will help retain and attract people and businesses which will grow our region," said U.S. Rep. Pete Visclosky. " I will continue to work with all parties involved to secure the necessary federal funding to support the application."
A group of residents, including impacted property owners, opposing the West Lake project issued a statement calling the news "heartbreaking."
But, "hopefully this development will bring an end to the limbo and speculation these people have endured for years," the Concerned Families of the West Lake Corridor Project said.
The publication says NICTD is preparing to select a firm, or partnership of firms, to engage in a design-build contract to carry out the final engineering and construction of the West Lake Corridor. A review committee would make a recommendation to the NICTD Board of Trustees in January. After a final construction cost is determined, negotiations with the FTA for a full-funding grant agreement can begin, said The Times of Northwest Indiana.
NICTD hopes to achieve that next year, and to complete the project in 2024.
Source: Inside Indiana Business
---
Chicago Build is the leading construction show for Chicago and the Midwest. Gain access to 12 specialized summits, 200+ exhibitors, 200+ speakers and connect with 10,000+ registered visitors.