28 Sep 2021
Landmarks Commission Approves National Historic Register Submission Of Ramova Theater In Bridgeport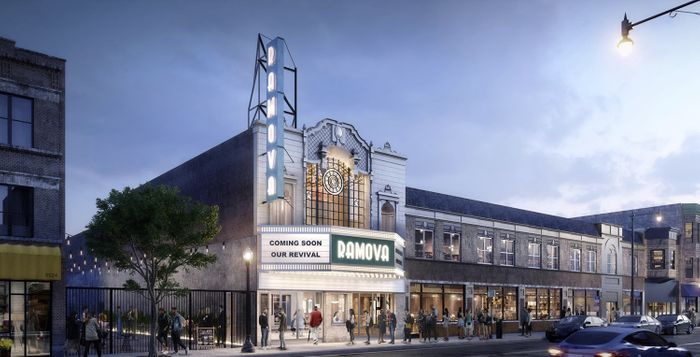 The Chicago Landmarks Commission has approved the submission of the Ramova Theater located at 3518 S Halsted Street in Bridgeport to the National Historic Register. The theater was designed by Chicago architect Meyer O. Nathan, and opened in Lake View in 1929.
It was designed to be an atmospheric theater, a style that tries to evoke a feeling of being outdoors through architectural ornamentation, projections and/or lighting, which peaked in popularity in the late 1920s. The Ramova itself is designed in a Spanish Revival style utilizing Spanish tile, archways, and Moorish-style ornamentation.
Developer Revival Chicago LLC will be responsible for the restoration, and it is set to become a live music venue with a 5,000-square-foot brewery and 4,000-square-foot restaurant, and capacity for 1,800 people. City Council will need to approve the motion before fully being introduced by the state to the register. If approved the designation would imply that it could apply for various national grants and other funds for its restoration, but will need to follow more stringent restoration codes as well.
Read more on Chicago Yimby
Chicago Build is the leading construction show for Chicago and the Midwest region. Gain access to 9 specialized summits, 200+ exhibitors, 200+ speakers and connect with 15,000+ registered visitors.