05 Jan 2022
Initial Plans Revealed For ComEd Redevelopment Of 333 S LaSalle Street In The Loop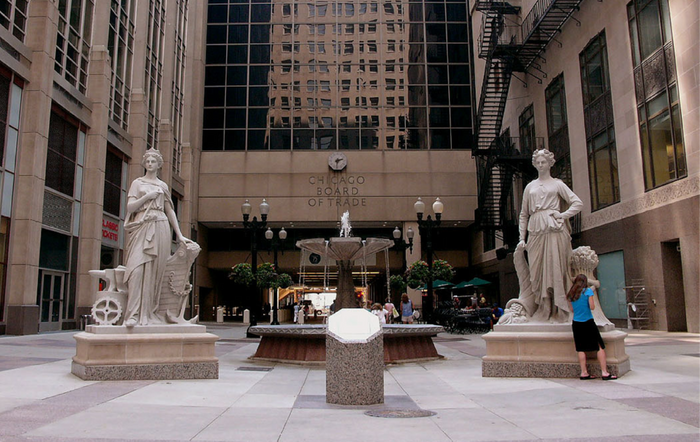 ComEd has announced plans to redevelop the existing trading building at 333 S LaSalle Street in The Loop. Located on the corner with W Van Buren Street, the low-rise building is adjacent to the Board of Trade tower and for many years held the last open-outcry trading pits in Chicago. The purchase, which was finalized in November, marks the end of a long history for in-person trading that helped power the local economy, which now relies on virtual operations.
The building has been operated by the CME Group since 2007 when it merged with the Chicago Board of Trade (CBOT), one of the world's oldest futures and options exchanges established in 1848. The Chicago Mercantile Exchange, which trades everything from milk and cryptocurrency to equity indexes and the world's first weather derivatives, is considered one of the most valuable brands among the world's leading exchanges.
The centrally located five-story tall, 288,000-square-foot building was opened in 1997 and designed by Fujikawa Johnson as an expansion to the adjacent Helmut Jahn-designed tower and trading floor. At its core is a 60,000-square-foot, 65-foot-tall column-free trading floor that could hold 8,000 people. It joined the existing trading floor to form the world's largest upon completion. Equipped with 600-foot-long price boards, it was the octagonal trading pits that were for decades the center of all of the action.
Read more on Chicago Yimby.
Chicago Build is the leading construction show for Chicago and the Midwest region. Gain access to 9 specialized summits, 250+ exhibitors, 300+ speakers and connect with 15,000+ registered visitors.