14 Apr 2022
Initial Details Revealed For Residential Development At 301 S Green Street In The West Loop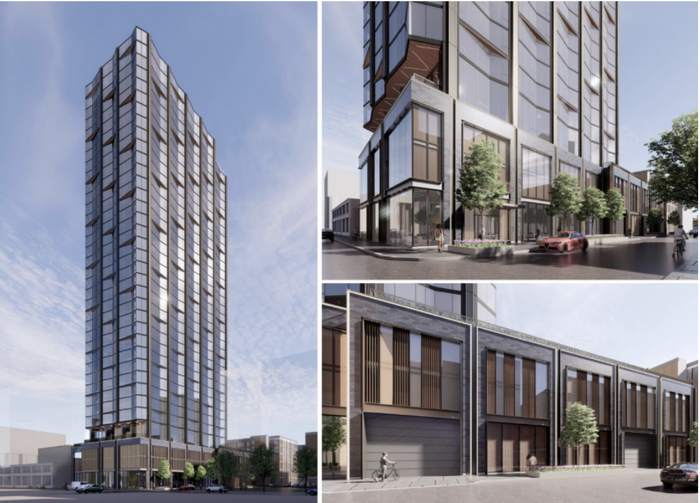 Initial details have been revealed to the Committee on Design for a residential development at 301 S Green Street in the West Loop. Located on the south east corner W Jackson Boulevard, the new high rise will replace two low rise masonry commercial buildings and its parking lot. The team behind the building consist of co-developers GSP Development as well as GOLUB & Company with local architecture firm Goettsch Partners working on the design.
The new tower will rise 36 stories at 404 feet tall, keeping it within context of other nearby tall buildings like the nearby 345-foot-tall Arkadia West Loop built in 2015 and the adjacent 130-foot-tall The Van Buren. Located just a few steps away from the main Greektown commercial strip, the new structure's ground floor will not contain any commercial space, only a residential lobby and two curb cuts on Green Street, one for a loading dock and the other for the parking garage entrance.
Rising 41 feet in height, the new podium will encompass the whole 31,214-square-foot site and feature a different facade system to connect with the context of the surrounding built environment. Aside from the aforementioned ground floor, the podium's remaining two stories will hold 129 vehicle parking spaces, 251 bicycle parking spaces, and two massive tenant storage rooms for future residents to use.
Read more on Chicago Yimby.