10 Aug 2023
Initial Approval Granted For Pacifica Of Chicago In Chinatown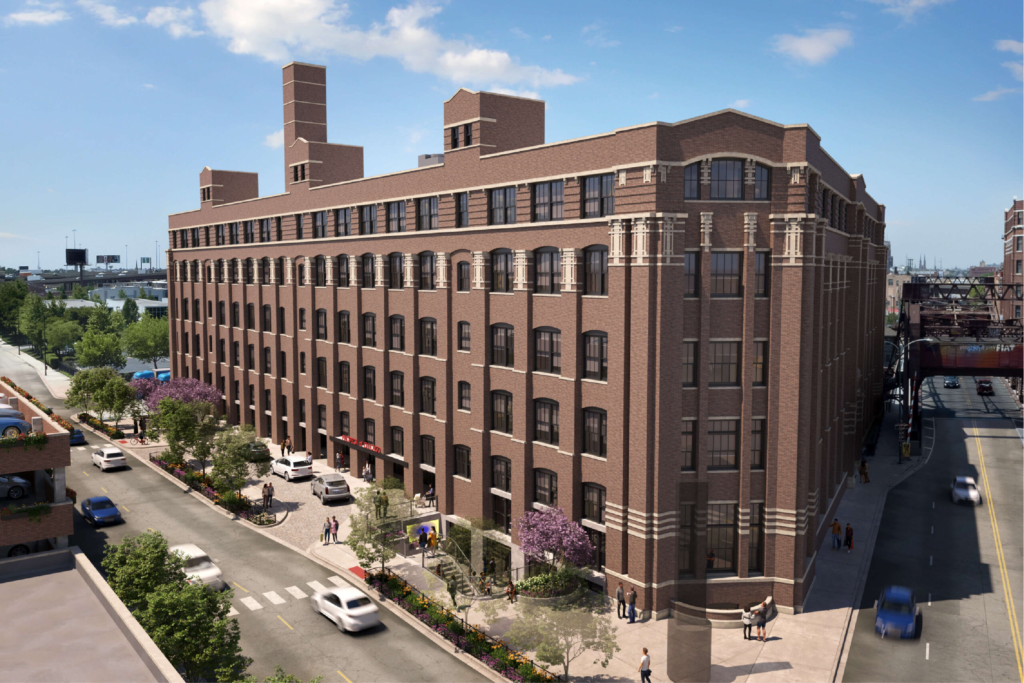 An initial approval has been granted for the redevelopment of the Hoyt Building at 465 W Cermak Road in Chinatown. Located along the south branch of the Chicago River on the corner with S Canal Street, the historic building shed its previous developer a few months ago as we covered the updated proposal revealed last January. Now Aurora-based developer Windfall Group received approval from the Permit Review Committee for the SPACE Architects + Planners designed proposal.
Built in 1909 as the warehouse for grocery wholesaler W.M Hoyt, the six-story structure was designed by Nimmons & Fellows in the Prairie-style within the now Cermak Road Bridge District. Although it has sat vacant for many years now, the last efforts to restore it into a large hotel, furniture store, and more came to halt in 2018 after only partially replacing some of its windows. However the new plans will rename the building as 'Pacifica of Chicago' and become a community hub while bringing additional life to the area.
Exterior work will include the restoration of much of the facade with extensive masonry repairs as well as cleaning up much of the existing ornamentation; all filled-in windows will also be reopened as many on the riverside remain blocked. A new vehicle drop-off loop will be added along Cermak leading to a new inset main entrance, cutting into the space but preserving the facade. A similar condition will also be created along the back for a new riverwalk, there will also be a large new monument sign and entrance to the lower level in the front.
Find out more at YIMBY