01 Mar 2023
Hub32 Wins East Garfield Park RFQ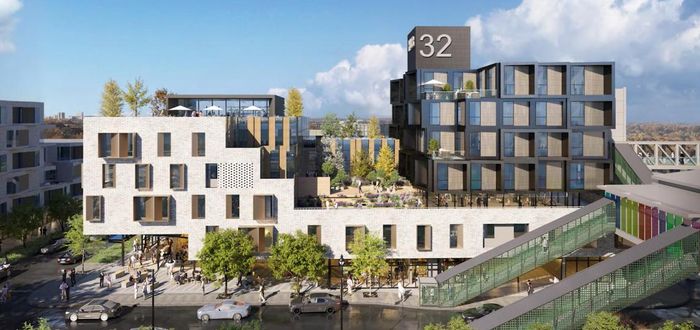 Mayor Lightfoot recently announced Hub32 as the winner of the East Garfield Park RFQ process. As the latest part of the mayor's Invest South/West initiative, the RFQ process selected three finalist teams who released their designs to the public before having one selected as the winner. Located at 132 N. Kedzie, the $47.2 million eTOD will occupy a currently vacant parcel owned by the city adjacent to the Kedzie Green Line stop.
Planned by The Michaels Organization, KMW Communities, and TruDelta, Hub32 looks to connect to the surrounding neighborhood through community wealth building and creating a place for local entrepreneurs to thrive. With Brooks + Scarpa working in collaboration with Studio Dwell Architects, the architecture is inspired by the idea of a quilt, taking pieces or aspects of the community and stitching them together. Designed as a set of buildings within a building, the broken-down scale fits the community using a fresh perspective on a typical courtyard-style building. The design maximizes daylight and views while providing a large common green space.
Set to rise seven floors, the mixed-use building will include 63 apartments for those earning up to 60% AMI. The rental units will be broken down into 14 one-beds, 34 two-beds, and 15 three-beds. The ground floor will include 5,600 square feet of retail space for three smaller tenants, prioritizing small food-based businesses rather than a large, big box retailer. A plaza will be designed to offer space for outdoor dining and community gathering, with the development also including 16 parking spaces. Retail tenants are expected to include Jerky Jerk Caribbean restaurant and Vietfive Coffee.
"The inclusion of design features and amenities that reflect the desires of the community, along with the development team's demonstrated history of successfully executing catalytic projects, made this proposal stand out," Mayor Lightfoot said. "I am confident that this development will revitalize the site and its surrounding area and serve as a much-needed affordable, transit-oriented housing option for East Garfield Park residents."
City support for the winning proposal may include Tax Increment Financing, tax credits, zoning, a land write-down, or other forms of assistance. The proposal will be subject to additional community engagement efforts as well as the City's standard review and approval procedures. Construction could start by early 2024.
DPD will continue to work with the developer of the runner-up proposal — Evergreen/Imagine — for potential implementation on nearby vacant land.
Read more on URBANIZE Chicago