17 Jul 2019
How women are breaking into the construction industry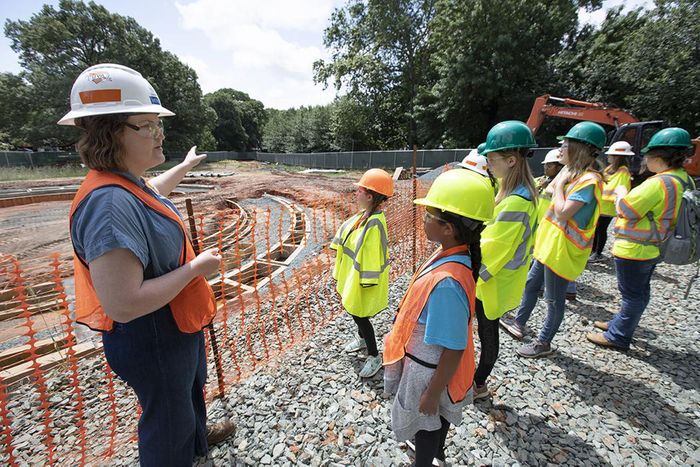 Anne Lassere is the very model of a young woman whose career is about to take off. Competent, confident, poised and well-educated, the daughter of a doctor and a lawyer, she's studied sculpture and anthropology and has lived in France, where she worked as a translator. She's recently left her job to launch her own firm, at age 32.
The business? Construction.
Lassere is a skilled carpenter with a brand-new contractor's license, and on the first project for her new company—renovating a house near downtown Charlottesville—she's handling everything from replacing the flooring to moving the staircase to updating the bathrooms, with a little help from her friends: plumber Kristi Williams and electrician Chelsea Short.
An all-female construction crew is pretty unusual—women still represent only 3.4 percent of the construction trades workforce, says the Institute for Women's Policy Research. Yet the skilled construction trades offer covetable jobs: wages are from 3 percent to 22 percent higher than the median in Virginia, according to the Associated General Contractors of America, and most don't require a college degree. Through apprenticeship programs, tradespeople can even get paid as they learn the job. The gender pay gap is also lower: Women in the construction industry earn 95.7 percent of what men do, compared to the overall national wage gap of about 80 percent. So, at a time when women have become well-established in traditionally male professions ranging from medicine to finance to law, why aren't we seeing more women plumbers, roofers, and masons?
It's not for lack of jobs: the industry is begging for skilled workers. Construction in Virginia has rebounded, and 92 percent of construction firms report difficulty finding both salaried and hourly craft employees, according to AGC. It's projected that Virginia's demand for trade workers, including in construction, will create almost 218,000 jobs between now and September 2020. And many current workers are soon-to-retire boomers.
In response to the shortage, federal, state, and local programs have proliferated to encourage more women to join the field, and they may be making inroads. But the barriers are high.

Read more at c-ville.com