19 Jul 2022
Henry Bros Co. Building 40 Affordable Apartments in Arlington Heights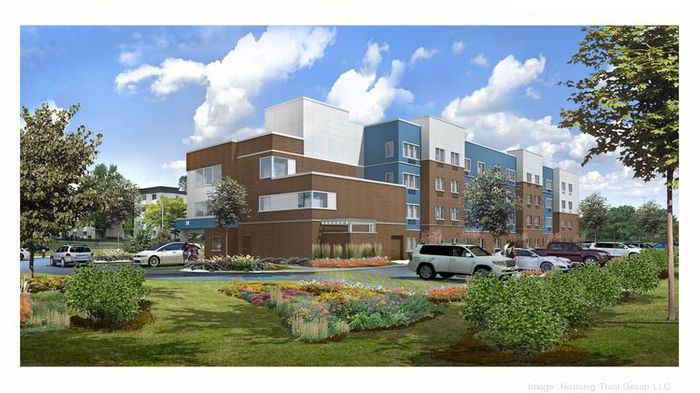 Housing Trust Group has broken ground on Crescent Place, a new $18.2 million affordable housing community in Arlington Heights.
The project team for Crescent Place includes general contractor Henry Bros Co., civil engineering Groundwork, landscape architect Krogstad Land Design, architect UrbanWorks Architecture, energy efficiency consultant Eco Achievers and property manager UpHoldings.
Construction is expected to last until the spring of 2023.
Apartments at Crescent Place will be reserved for income-qualifying residents who earn at or below 30 and 60 percent of area median income (AMI), with rents ranging from $524 to $1,258 per month.
It's a joint venture between HTG and non-profit developer Turnstone Development Corporation, whose focus is to facilitate the creation and preservation of affordable housing in Illinois and Florida.
"We are delighted to enter the state of Illinois with the development of Crescent Place, which will provide 40 high-quality, affordable apartments for small families and young professionals who want to live close to where they work," said Matthew A. Rieger, president and CEO of HTG.
"We look forward to bringing HTG's signature high-quality affordable housing to a community that needs it."
Located on a 2.3-acre lot at 310 W Rand Road, the four-story development will include a mix of one-, and two–bedroom units, community room, library, computer cafe, fitness room, tenant storage compartments, bicycle storage, and 80 outdoor parking spaces.
Other features include a resident garden, outdoor patio, and a walkway tying into the existing public sidewalk system.
Funding sources include a $10.9 million construction loan and $1.6 million permanent loan from BMO Harris Bank; $12.1 million in 9% Low Income Housing Tax Credit Equity from National Equity Fund (NEF); $4 million from the COVID-19 Affordable Housing Grant Program provided by the Illinois Housing Development Authority; and a $110,214 ComEd grant for building to energy efficient standards.
Read more on Chicago Construction News
Chicago Build is the leading construction show for Chicago and the Midwest region. Gain access to 9 specialized summits, 250+ exhibitors, 300+ speakers and connect with 20,000+ registered visitors.