03 Sep 2022
Groundbreaking Imminent for Residential Development at 4600 N Marine Drive in Uptown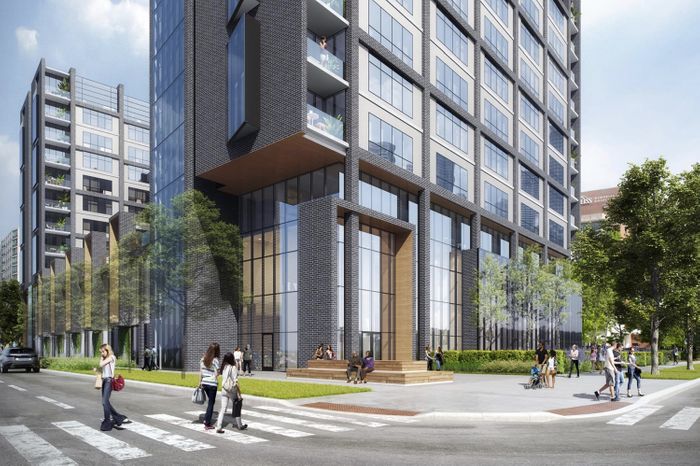 Initial permits have been approved for a residential development at 4600 N Marine Drive in Uptown. Located on the intersection with W Wilson Avenue in front of Montrose Beach, the project replaces a surface parking lot previously owned by Weiss Memorial Hospital. Developer Lincoln Property Company is behind the proposal along with architecture firm Valerio Dewalt Train on the design.
Weiss Hospital has been a northern Chicago stalwart since 1952 and its current 236-bed facility operates on the eastern edge of Uptown facing the lake. The surface lot served no purpose to the community and thus to fund renovations and new programs at the hospital, Weiss sold it to the developer for roughly $8 million recently. The hospital is now being sold with the $8 million pool included still earmarked towards its original purposes, but some neighbors have begun protesting the development and want the money to go towards buying the lot back and expanding.
Although the current seven-day bed occupancy remains at around 60-percent, a group of locals have been camping out on the lot in support of the buyback, but were removed on Wednesday by construction crews according to Block Club. It is worth noting the developer will be providing very little on-site affordable units, but is making a $3 million payment towards the nearby Sarah's Circle housing development to assist women facing homelessness, part of a housing crisis affecting thousands in Chicago.
Rising 159 feet and 12 stories in height, the new entirely residential development will contain 314 residential units. These will be made up of studios, one-, and two-bedroom layouts spread across the U-shaped building that will contain no ground-floor commercial space, but will have a 136-vehicle parking garage in the podium. Topping the podium will be a large outdoor space with residents having access to various amenities including a gym in the brick and metal panel clad structure with wood accent tones and large moments of curtain wall glazing.
Of the 314, eight will be on-site affordable units for those making 60 percent or less of the Area Median Income (AMI), a number far lower than required but allowed due to the aforementioned payment. The $5 million permit will allow for the building to break ground marking an end to the dispute that began back in April. The developers received all necessary city approvals already including that of City Council as of this year with no signs of changing their plans.
Future residents of the building will have access to CTA bus service for Routes 78, 136,146, and 148 on site, along with the CTA Red and Purple Lines via a five-minute walk in the transit-rich area. At the moment we do not have an updated timeline for the $90 million development, but a groundbreaking is imminent as the permit listed a contractor that was awarded the project, with that we can expect an 18 to 24-month completion timeline based on similar builds.
Read more on Chicago YIMBY
Attend Chicago Build Expo, the largest construction, design and real estate show for the Midwest. Gain access to 12 conference tracks and AIA CES approved workshops, check out 250+ exhibitors, learn from 350+ high-profile speakers and connect with 20,000+ built environment professionals.