10 Sep 2022
Groundbreaking Announced for 1245 W Fulton Market Street in West Loop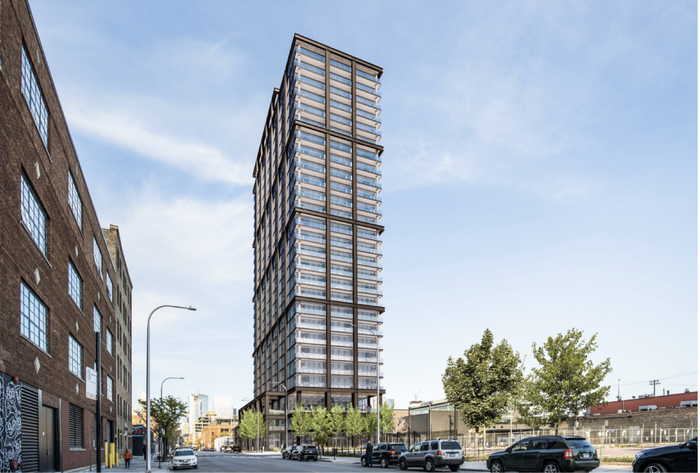 New details have been revealed for the groundbreaking of the mixed-use development at 1245 W Fulton Market Street in the West Loop. Located on the intersection with N Elizabeth Street, the new structure replaces a group of empty lots and snakes around an existing art gallery that will remain. West Loop stalwarts Sterling Bay have teamed up with Colorado-based Ascentris, the same team as 160 N Morgan Street, to co-develop the property being designed by local firm Hartshorne Plunkard Architecture.
Having received City Council approval earlier this year, the building has seen a handful of design updates increasing its density since being initially announced mid 2021. While keeping the same height of 314 feet tall, it added a handful of floors going from 25 to 28 stories as well as shedding much of its masonry in favor of black metal along the base. An improved front entry plaza with more trees was also revised due to Fulton Market Street being designated a pedestrian street recently thus requiring more public access.
The first floor will feature 9,615 square feet of divisible commercial space fronting Fulton, four inset entrances will allow for it to be split if need be. Coming off of the aforementioned plaza along N Elizabeth Street a large residential lobby can be found with three elevators for the units above. Off of the adjoining public alley will be access to the 92-vehicle parking garage stretching to the second floor along with space for 199 bicycles.
Above the podium will be 350 residential units made up of 66 studios, 46 convertibles, 140 one-bedrooms, 92 two-bedrooms, and six three-bedroom layouts with those on the ends having private balconies. As of earlier this year, 70 of the apartments will be considered affordable, an increase from the original 35, consisting of 13 studios, nine convertibles, 28 one-bedrooms, 19 two-bedrooms, and one three-bedroom. Residents will also have access to a 28th floor rooftop deck, outdoor pool, dog run, fitness center, library, and more.
Originally expected to break ground in the first quarter of this year, Sterling Bay has announced they will do so later this month having received all the necessary approvals. This comes after they sold the two lots necessary to Ascentris for $15 million after buying it themselves for $4 million in 2013. The $156 million project recently received a $92 million loan from Citizens Bank allowing for construction to commence.
Read more on Chicago YIMBY
Attend Chicago Build Expo, the largest construction, design and real estate show for the Midwest. Gain access to 12 conference tracks and AIA CES approved workshops, check out 250+ exhibitors, learn from 350+ high-profile speakers and connect with 20,000+ built environment professionals.