20 Apr 2023
Greyhound Site Redevelopment Would Make Chicago America's Largest City Without A Downtown Bus Station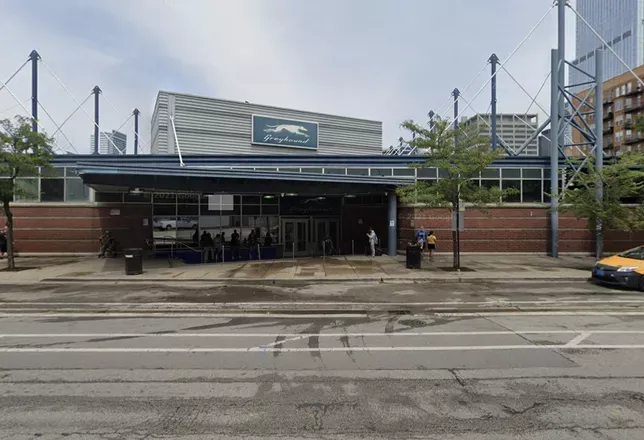 A critical hub for more than 500,000 mostly lower-income travelers and Chicago's reputation as the Midwest's most important travel crossroads are at risk, according to a new study highlighting the likelihood its privately owned downtown Greyhound bus terminal will be permanently shuttered.
CBRE was hired to market the 630 West Harrison St. station in February after the land was sold to real estate investment and management firm Twenty Lake Holdings in December, part of a $140M deal for 33 Greyhound properties nationwide. CBRE officials have said the 88K SF site could be razed to make way for two high-rise towers, most likely containing apartments, Crain's Chicago Business reported.
But a report published Wednesday by DePaul University's Chaddick Institute for Metropolitan Development said allowing that to happen could be a grievous mistake and urged city, county and transit authorities to act swiftly to acquire it and operate it in "a manner like public airports, railroad stations, and transit hubs."
Government agencies in 10 of the country's 14 largest metro areas provide public accommodations for intercity bus lines, according to the report.
"Allowing the closure of the Greyhound Station without giving passengers an attractive alternative that is both centrally located and equipped with an indoor waiting room would make metropolitan Chicago a weak link in the national intercity bus system," authors Joseph P. Schwieterman, Carrie Craig and Angelia Millsap said in the report.
The station serves as many as 557,000 passengers annually, per the report, and is busier than nearby airports in Champaign and Rockford. Many of those travelers are low-income, disabled or have no access to vehicles. It is also a connection nexus in the Midwest, offering about 55 scheduled buses daily in addition to servicing interline partners like Barron's Burlington Trailways, Miller Trailway/Hoosier Ride and Burlington Trailways.
Find out more on BISNOW