11 Nov 2019
Funky geometric townhouse with sculptural interior lists for $1 million in Old Town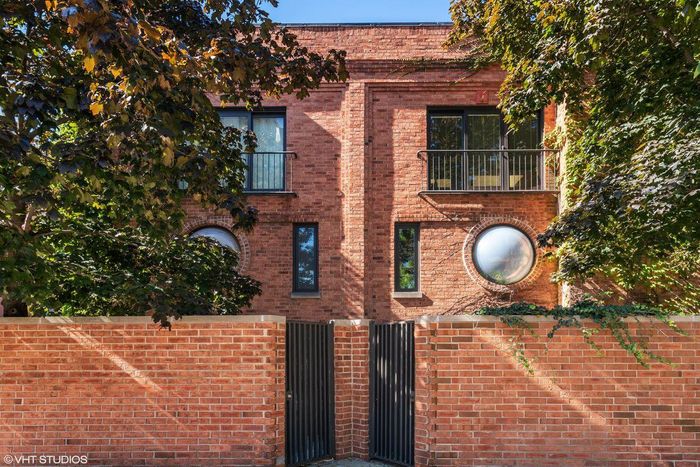 Old Town, a neighborhood just north of downtown, is a mix of new luxury digs and some eye-catching historic condos.
This brick townhouse was originally designed by Chicago architect Marcel Freides in 1980, and recently the interior of this unit was redone by Cohen Hacker Architects.
The sharp corners, symmetry, and funky bubble window make a particular style hard to pin down but its geometric shapes could have modern, postmodern, and even art deco inspiration.
The main event of the three-story residence is the dramatic, bright atrium completed with a skylight. A "sculptural staircase" wraps around the living room and dining room—it leads to a lofted den, master suite, and finally a top level with two bedrooms.
There's a full-height brick wall that can be seen throughout the entire home—even the second-floor guest bathroom which has a window that looks out into the middle of the atrium. The kitchen features a little horizontal cut-out connecting the dining area in an artful way. The integrated steel and wood Bulthaup kitchen is minimalist, modern and might actually be too beautiful to cook in.
The living room gets the most natural light being right underneath the glass ceiling and next to a private bricked-in patio. In any season, it'll be the room to be in, especially with the stylish fireplace built into the brick wall.
Located at 1300 North LaSalle Street Unit B, this three-bedroom, two-bathroom home is asking $1,095,000.
The living room benefits from a massive skylight.
A minimal built-in closet and nicely framed window in the master bedroom.
The bathroom has a window that looks out over the double-height open space above the living room.
The kitchen is modern and minimalist.
Source: Curbed Chicago
---
Chicago Build is the leading construction show for Chicago and the Midwest. Gain access to 12 specialized summits, 200+ exhibitors, 200+ speakers and connect with 10,000+ registered visitors.