06 Sep 2022
Full Permits Issued for Covent Hotel Development in Lincoln Park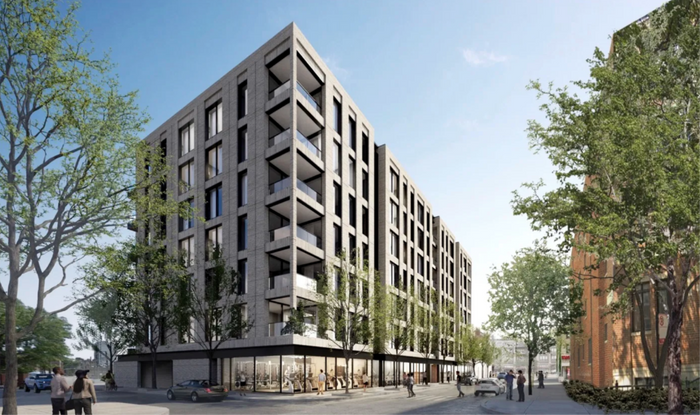 Full building permits have been issued for the remaining half of the mixed-use development at 2653 N Clark Street in Lincoln Park. The new project will redevelop the existing Covent Hotel and build a new addition on its surface parking lot at 537 W Drummond Place which received the approval. Local developer Drummond Development has partnered with architecture firm Brininstool + Lynch on the design and restoration while working with the National Historic Preservation Foundation (NHP) on the latter.
With City Council approval, the permit is the last piece needed for a full build out to commence once legalities are settled with the US Housing and Urban Development department. The existing Hotel was designed by Frank E. Davidson in 1915 as a men's hotel in the Classical Revival Style, most recently serving as a 64-room SRO which will be vacated. This will be converted into 30-affordable rate studios with priority given to returning residents, the work will also include repairs to its facade and the replacement of its doors and windows and received its permits earlier this year.
Replacing the existing surface lot will be a new seven-story 80-foot tall fully residential structure, a change from its originally announced plans for ground-floor retail concept. That space now holds some amenity space, a larger lobby, 84 bicycle parking spaces, and 52-vehicle parking spaces within an attached enclosed garage. Residents of the market-rate building will have access to an on-site gym along with 4,700 square-feet retail options next door at the base of the Covent Hotel, as well as the lake a short walk away.
The upper floors of the new construction will consist of 84-residential units made up of 12-studios, 54 one-bedroom with 24 of those having a den option, and 18 two-bedroom floor plans, a change from the original announcement as well. Most apartments will have access to a private inset balcony, with those in the rear having a cantilever option to break up the massing. The structure will be clad in white brick with dark metal panel accents, using clean lines and pronounced corners in juxtaposition to the older brown-brick hotel.
Drummond Development will also pay $800,000 to the city in lieu of additional affordable units in the new building, but that money will in turn be used to fund the hotel's conversion. As previously announced, a groundbreaking is expected this month with Construction Realty Company having received the contract to be the general contractor on the project. Once work does begin, it is expected to take roughly 18-months to complete with an expected opening date in the first half of 2024.
Read more on Chicago YIMBY
Attend Chicago Build Expo, the largest construction, design and real estate show for the Midwest. Gain access to 12 conference tracks and AIA CES approved workshops, check out 250+ exhibitors, learn from 350+ high-profile speakers and connect with 20,000+ built environment professionals.