04 Jun 2019
Fueling Up: Exploring Ideas about Architecture and the Built Environment at the Chicago Architecture Biennial's Student Ideas Competition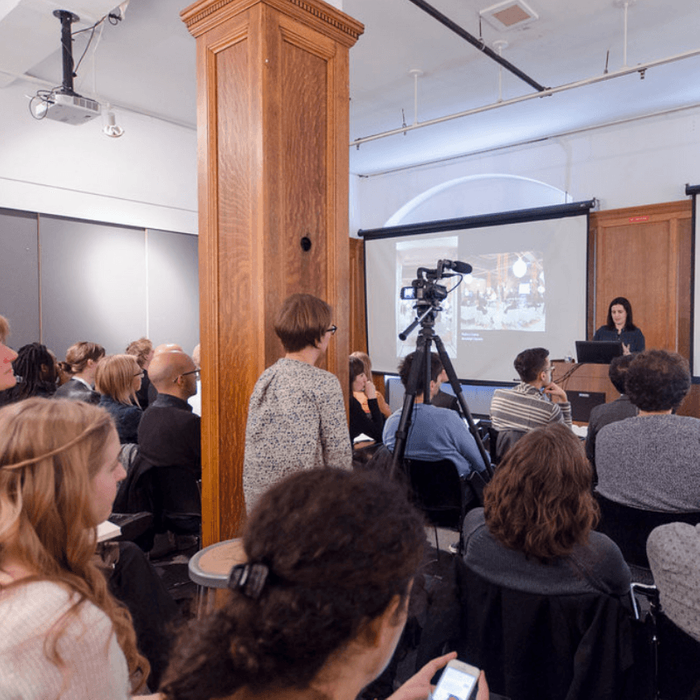 Vying for $2,000 in cash prizes, collaboration with a Chicago Architecture Biennial (CAB) partner, and a pat on the back from former Mayor Rahm Emanuel, sixty-one student teams from forty-two Illinois zip codes entered the BP Spring 2019 Student Ideas Competition. Prizewinners were announced at a ceremony on May 14 at the Chicago Cultural Center. A component of the CAB, the competition challenged elementary and high school students to "transform vacant or underused spaces in their communities." After an evaluation process, eight jurors narrowed the entries down to the thirteen projects—first, second and third place, plus ten honorable mentions—represented at the ceremony.

"It was difficult," said juror Luis Ramirez, a muralist and graffiti artist who works under the moniker "Asend One," of judging the entries. "All the students had great ideas, but ultimately we had to make our choices." Prizewinners spanned seventh through twelfth grade. Second-place winner Michelle Wang (Illinois Math and Science Academy, eleventh grade) hand-drew her concept for the "Engineering Museum for North Aurora Youth in Minority Ethnic Groups," a multi-polygonal structure including laboratories, classrooms and a "creation station." Camryn Gosa (Lindblom Math and Science Academy, ninth grade), who received an honorable mention, produced a full 3D model of her "Ashburn Community Center Project," complete with electricity, shrubbery and a miniature indoor tennis court.
The ceremony kicked off with a series of speeches from event coordinators including COO of Fuels, North America Doug Sparkman, and former Chicago Mayor Rahm Emanuel. "By BP asking kids from all parts of the city to be involved in a competition of architecture…gives kids from all walks of life and all backgrounds [the chance] to participate in writing the next chapter of our great city," said Emanuel in his opening remarks. There was some apparent irony in Emanuel, whose tenure as mayor has been tainted by controversy, championing BP, which has faced more than its own share of scandal. But the students' considerable drive for community aid gave cause for optimism.
"My heart just kept beating so fast, I was so excited," said first-place winner Jessica Chaidez (Lindblom Math and Science Academy, tenth grade). "I was just trying to do something good for my community." "I'm incredibly proud," said Whayne Braswell III, who accepted an honorable mention award on his daughter Rasa's behalf. Choking back tears, he continued, "She's fifteen years old. Sometimes you forget that young people have whole mental and emotional worlds that they occupy that seem invisible. You need to be reminded."
It's gratifying to see young people validated for thinking in creative, community-minded ways. Teenagers' world views are in constant flux. Rewarding them for wholesome contributions to society—even by people and organizations of indeterminate-at-best societal efforts—can only do good. "My main takeaway is to keep guiding youth to voice their ideas and their concerns," juror Mejay Gula said after the ceremony. "It reinforces me being a teacher and an educator even more. I'm proud to be a teacher, and I will continue doing it specifically for moments like this."
Source: New City Design
---
Chicago Build is the leading construction show for Chicago and the Midwest. Gain access to 8 specialized summits, 200+ exhibitors, 200+ speakers and connect with 10,000+ registered visitors.
---