12 Oct 2021
Foundation Work In Full Swing For University Of Illinois Chicago's Computer Design Research And Learning Center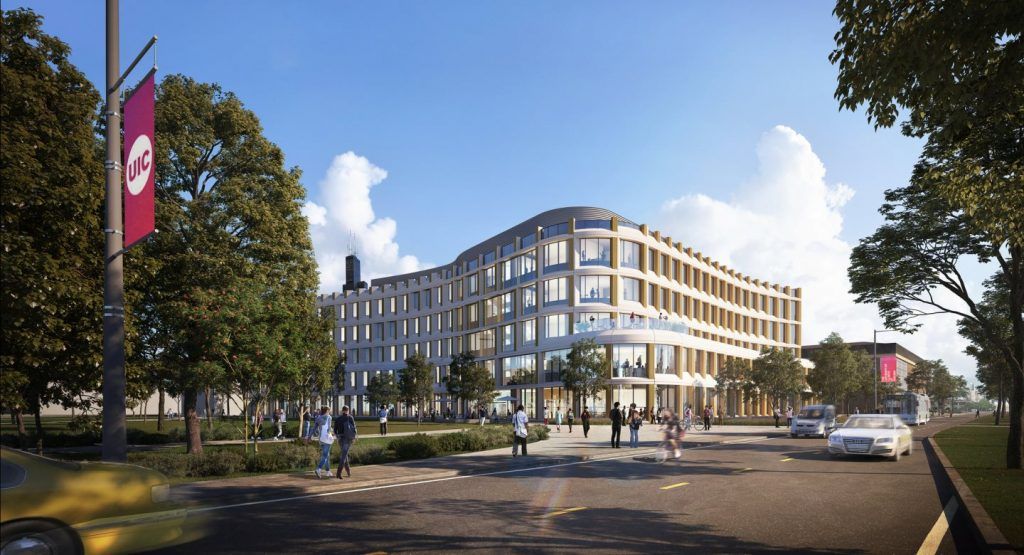 Work is now underway for a new five-story educational building at 900 W Taylor Street, located near the southern edge of The University of Illinois Chicago's main campus. The new 135,000-square-foot facility, dubbed the UIC Computer Design Research Center (CDRLC) will be added to an existing mid-century building that houses various engineering departments and research centers.
The new space provided by the new construction will house 16,000 square feet of classroom space, 35 labs including a 1,200-square-foot robotics lab, a student affairs office, and an undergraduate learning and community center.
Designed by LMN Architects and Booth Hansen, the unique facade incorporates a mix of recessed window openings, precast concrete panels, and terra cotta accents. The third floor will also be set back along the south-facing side to allow for a large terrace space. On the inside, the gap between the programming and the existing building will also allow for a full-height atrium that will provide natural light while retaining the facade of the existing building.
While the new structure will yield a net negative amount of parking due to the fact that no new parking will be made available and the structure will be replacing a former parking lot, the near vicinity offers students, faculty, and staff a range of transportation options. The nearest bus stops are directly adjacent to the site, with service for Route 157. Those looking to board Route 8 will find additional service at Halsted & Taylor via a two-minute walk east. Lastly, Route 12 offers service at 900 W Roosevelt Road.
Read more on Chicago Yimby.
Chicago Build is the leading construction show for Chicago and the Midwest region. Gain access to 9 specialized summits, 250+ exhibitors, 250+ speakers and connect with 15,000+ registered visitors.