30 Apr 2019
Floating trees and eco-park transform North Branch canal this summer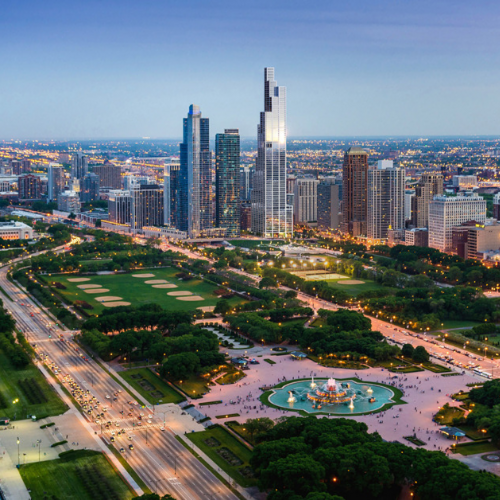 The highly-polluted North Branch Canal is getting a new look with floating trees and a floating path, which will get installed this summer as part of the Wild Mile eco-park.
At a community meeting on Thursday, Rachel Momenee from Skidmore, Owings & Merrill (SOM) and city planner Nelson Chung presented what parts of the design will get constructed first.
The team will build a riverfront pathway between Weed Street and Eastman Street which will cost between $1.3 to $1.5 million. On the south end, the path will open at REI's riverfront store where there's a kayak launch and picnic tables.
Last year Urban Rivers installed floating gardens and now its testing out floating trees for the canal. As the project gets more funding, other access points, floating habitats, a naturalized shoreline, a mural, and educational programming will get added.
27th Ward Alderman Burnett secured some initial funding for the start of the project. He is working on getting the new administration on board and said he'll "do everything to make sure this thing comes to fruition."
The small steps so far are helping to change the industrial, unused part of the river. Since it's not a natural waterway, it was man-made in the 1850s for commerce, there are hard concrete edges, corrugated steel, and a lot of pollution.
The design for Wild Mile brings an ecosystem into the river by adding an artificial shoreline, shallow water, and more textured vegetation. That'll help attract pumpkinseed fish, catfish, frogs, butterflies, herons, and purple martins. It might even bring around otters, which, yes, have been spotted in the river.
Educational programming is also a big priority— the eco-park is a perfect opportunity for an outdoor classroom. Down the road, the team wants to connect with nearby students and show them what's in their city with volunteer and stewardship opportunities.

Last summer the Shedd Aquarium partnered with Urban Rivers to do kayak tours teaching people about the river ecology, native plants, and how wildlife can thrive. It was wildly popular and people couldn't believe how what was in their own backyard, said Cheryl Mell, Senior Vice President of Conservation a Partnerships and Programs.

Source: Curbed Chicago
---
Chicago Build is the leading construction show for Chicago and the Midwest. Gain access to 8 specialized summits, 200+ exhibitors, 200+ speakers and connect with 10,000+ registered visitors.