26 Sep 2022
Final Design Revealed for Discovery Partners HQ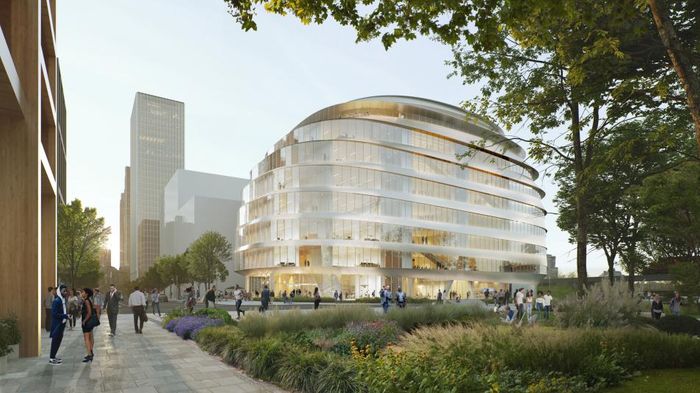 Announced by Governor JB Pritzker and the University of Illinois System's Discovery Partners Institute, the final design for the Discovery Partners Institute headquarters has been revealed. Planned for a one-acre portion of The 78, the complex will be sited on the south end towards Chinatown.
With architecture firms OMA and Jacobs collaborating on the design, the new building will provide more than 200,000 square feet of office, classroom, lab, and event space for DPI and its university and industry partners. The Illinois Capital Development Board oversees design and construction.
The eight-story building has been designed to connect with its surroundings, exhibiting a multi-directional form that is impartial to any one specific direction. Engaged with the surrounding buildings, riverfront, and future phases of the Innovation District at The 78, the building's base will hold a cafe, auditorium, and multi-purpose exhibition space. The building's main entry will be located at 15th Street and Wells-Wentworth, with a Richard Hunt sculpture anchoring the site landscape. Upper floors will include classrooms, experimental labs, computational labs, and a terrace on the top floor.
"DPI cultivates opportunities for research, learning, and innovation to diverse communities, requiring an architecture that adapts to continued growth of its programs. We wanted to provide a building that fosters interdisciplinary interaction and experimentation," said Shohei Shigematsu, OMA Partner. "Programs are organized to maximize efficiency and potential to converge, and variegated layouts are configured around a central zone of collisions. A soft, transparent form and public ground floor offer an open invitation for the community to the building and its network."
As part of the University of Illinois system, The State of Illinois has provided $500 million in capital funding to launch DPI and establish its Innovation Network at regional universities throughout the state. Related Midwest, the developer of The 78, donated the land for DPI and will oversee the continued buildout of the 62-acre property.
The project is expected to break ground in 2024, becoming the first building to begin construction in The 78 Innovation District. It will mark the beginning of a transformation that will connect the South Loop and Chinatown, filling a 62-acre void that has long separated them.
Read more on URBANIZE Chicago
Attend Chicago Build Expo, the largest construction, design and real estate show for the Midwest. Gain access to 12 conference tracks and AIA CES approved workshops, check out 250+ exhibitors, learn from 350+ high-profile speakers and connect with 20,000+ built environment professionals.