19 Sep 2022
Facade Installation Begins for 1400 S Wabash Avenue in South Loop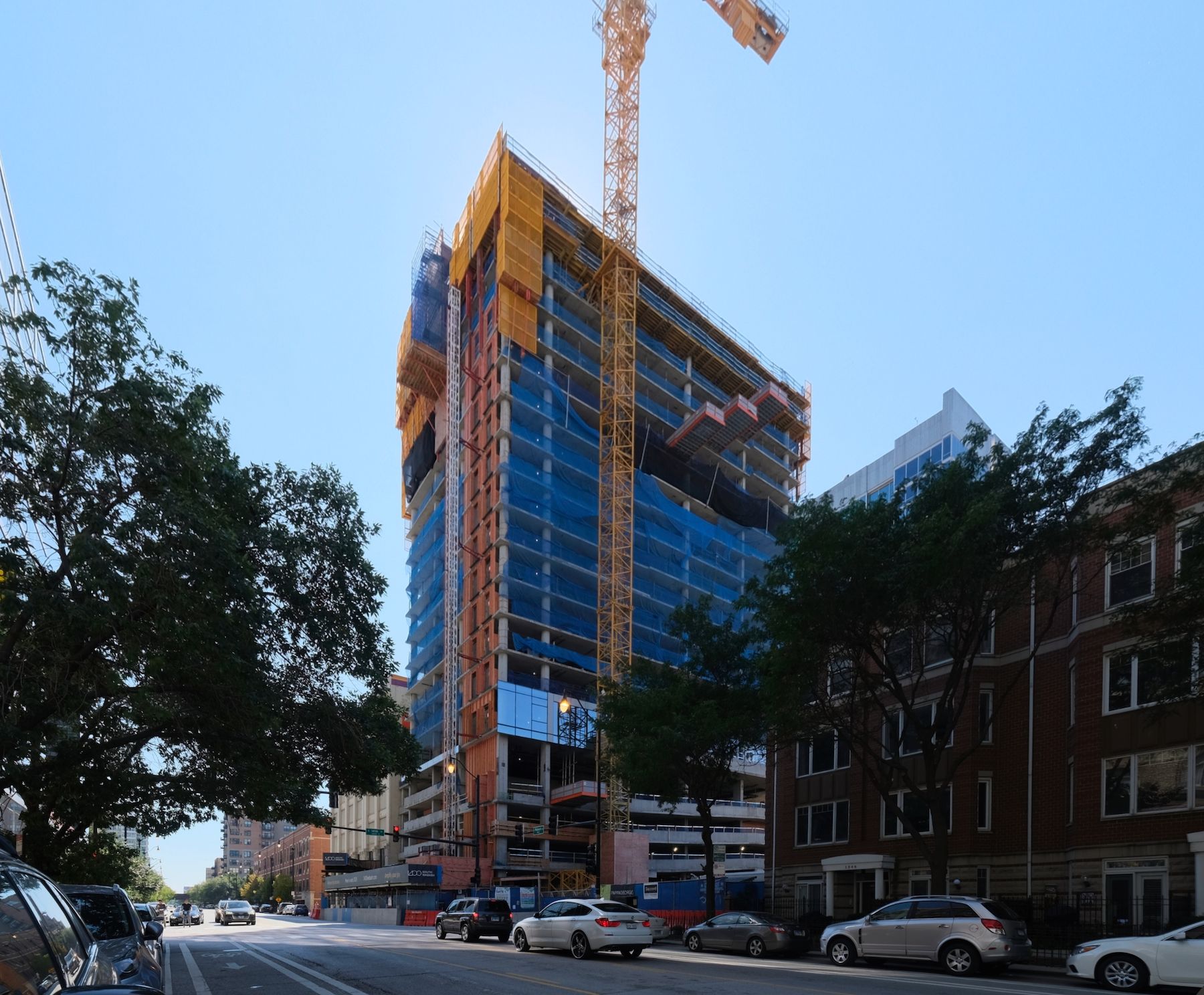 Glass and metal installation has begun for CMK Companies' 1400 S Wabash Avenue, a 30-story mixed-use high rise in South Loop. Set to stand 350 feet, the tower will contain a combination of ground-level retail and 299 rental units above. Since YIMBY's last update, structural work has progressed rapidly, with work now climbing past the 20th floor.
Apartments will offer layout sizes from one-bedrooms up to three-bedroom residences. Select units will also come with private terraces atop the podium. Amenities, meanwhile, will include a top-floor lounge and open-air terrace. On-site transit accommodations will provide residents with 105 parking spaces and a bike room with 180 slots. The retail segment will be located along Wabash, while 14th street will be extended west to create a driveway and lobby access for residents. Directly to the north along its northern edge, the parcel will also contain a new micro park that will be open to the public.
The exterior of the building, designed by Pappageorge Haymes, will be made up of interlocking rectangles. These rectangular components are outlined with metal paneling, and will either protrude or recess to accentuate the facade pattern.
The project site is closely located to bus Routes 1, 3, 4, 12, 29, 62, and 146, as well as the Red, Green, and Orange CTA Lines via Roosevelt Station. All of these options are available within an approximately five-minute walk of the building.
With Lendlease serving as general contractor, the $100 million build is expected to complete and open its doors by next year.
Read more on Chicago YIMBY
Attend Chicago Build Expo, the largest construction, design and real estate show for the Midwest. Gain access to 12 conference tracks and AIA CES approved workshops, check out 250+ exhibitors, learn from 350+ high-profile speakers and connect with 20,000+ built environment professionals.