24 Aug 2022
Extensive Structural Work Spotted at Sears Department Store Redevelopment in Portage Park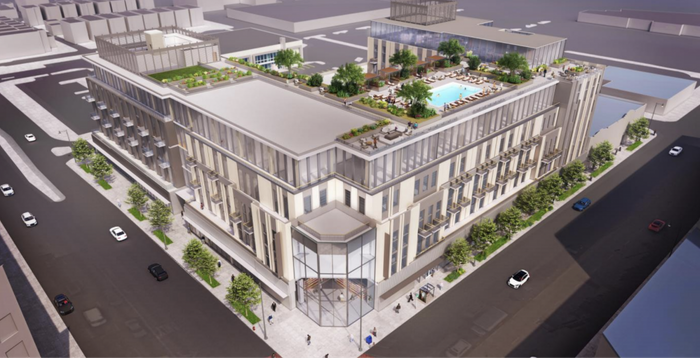 The former Sears department store site, located at 4712 W Irving Park Road in Portage Park has undergone extensive construction since YIMBY's last update. With Novak Construction as developer and general contractor, a comprehensive demolition was carried out earlier this year, making way for a $90 million adaptive re-use project. The six-story development is one of several, including the recently-covered Clarendale Six Corners, meant to enliven the intersection of Milwaukee and Cicero Avenues and Irving Park Road. It should be noted however that, according to an article by Nadig Newspapers, the project did receive a stop-work order from the city this week for performing work outside the scope of issued permits.
As outlined in plans, the mixed-use programming will include 50,000 square feet of commercial space, 207 residential units, and a flagship 45,000-square-foot retail venue. There will also be an additional 5,000-square-foot space along Cicero Avenue. Residences will range from studios through two-bedrooms, and many units will feature high ceilings and loft spaces. In to meet the city's ARO guidelines, Novak is including six on-site affordable units and donating $2 million to the Affordable Housing Opportunity Fund.
The development will have a rooftop amenity level for residents that includes a glass-enclosed lounge area and an outdoor rooftop pool deck. There will also be 275 parking spaces, designated for both residents and retail patrons.
The Sears department store, designed by the Chicago-based firm Nimmons, Carr & Wright, was completed in 1938. Having cost $20 million to build in today's dollars, it was one of Sears' flagship Chicago destinations for 80 years until its closing in 2018. Novak Construction has removed the 1970's-era section of the building, while the 1938 section's skeleton will remain with extensive interior and exterior renovations. The new addition at the north end of the parcel will give way to a six-story addition.
Architecture firm MG2 has worked with Novak Construction to retain many of the Art Deco elements that were part of the original design. As for the new architectural elements, MG2's new exterior scheme will include a mix of glass, brick, metal accents, and the retention and repainting of some of the existing concrete paneling. The pentagonal glass enclosure at the six corners intersection is being rebuilt for greater structural integrity while also maintaining its original character.
Meanwhile behind the building, Cuyler Avenue is also being developed into a more pedestrian-friendly thoroughfare which will create a more welcoming and inviting space for pedestrians and connect Cicero Avenue to the Jewel Osco parking lot. There will be added sidewalks, trees, and benches, as well as public art pertaining to the surrounding Six Corners area.
The nearest transit is available for Routes 54, 54A, 56, and 80 at the adjacent intersection of Irving Park Road, and Milwaukee and Cicero Avenues. The closest Metra rail service is Grayland station via a 10-minute walk southeast. The CTA L is available at the Blue Line's Irving Park station via a 20-minute walk east.
Novak Construction is also serving as general contractor. While the timeline now appears uncertain in light of the pause in site work, plans had originally targeted a completion date of next year.
Read more on Chicago YIMBY
Attend Chicago Build Expo, the largest construction, design and real estate show for the Midwest. Gain access to 12 conference tracks and AIA CES approved workshops, check out 250+ exhibitors, learn from 350+ high-profile speakers and connect with 20,000+ built environment professionals.