26 Oct 2021
Extended Funding Approved For Cabrini-Green Redevelopment In Near North Side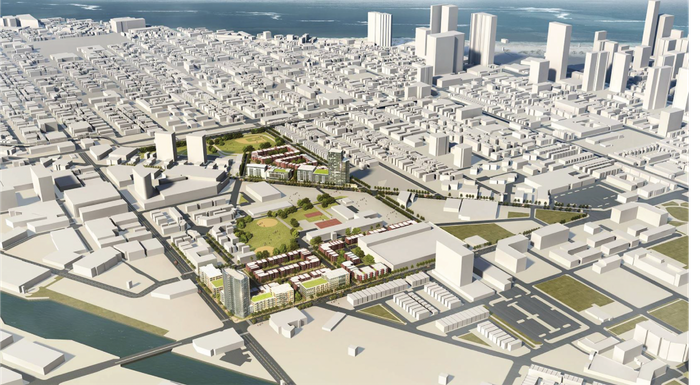 Extended funding for the redevelopment of the remaining parcels of the former Cabrini-Green homes has been approved by the Community Development Commission in Near North Side. The first of the two separate vacant parcels just west of downtown, sits north on the corner of N Larrabee Street and N Clybourn Avenue, replacing the recently demolished Near North Career High School. The second parcel just south of the first sits on the northeast corner of W Division Street and N Halstead Street next to a Target that was developed on former housing property as well.
Developed by the Chicago Housing Authority (CHA), the original Cabrini-Green homes were built over multiple years from 1942 to 1962 and at its peak housed nearly 15,000 people. However throughout the years the complex became known for crime, this is partially due to the extensive neglect of the facilities which was common across housing projects throughout the United States. By the end the complex held 3,607 home across row-houses, mid-rises, and high-rises deigned by multiple Chicago architects like A. Epstein & Sons and Pace Associates. Plans to demolish the buildings date back as far as 1995, and by 2010 the last residents moved out with demolition beginning soon after on the last remaining high-rise building.
Find out more at Chicago Yimby.
Chicago Build is the leading construction show for Chicago and the Midwest region. Gain access to 9 specialized summits, 250+ exhibitors, 250+ speakers and connect with 15,000+ registered visitors.