11 Aug 2023
Encuentro Square celebrates groundbreaking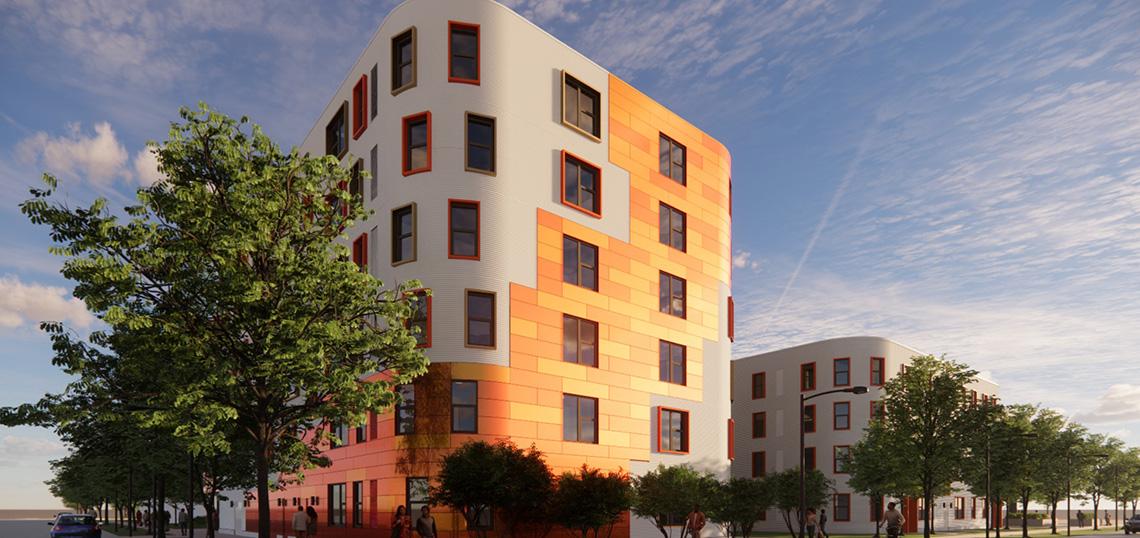 The development will create 89 affordable units at the end of the 606 Trail
Development partners and elected officials gathered yesterday to celebrate the groundbreaking of Encuentro Square, a two-building, multifamily development in Logan Square at 3759 W. Cortland St. and 1844 N. Ridgeway Ave., at the western edge of the 606 Trail. Developed by Latin United Community Housing Association (LUCHA) and Evergreen Real Estate Group, the property was the site of the former Magid Glove factory.
"Gentrification pressure in the Logan Square community has resulted in a significant reduction in naturally occurring affordable housing stock for the area, leading to changes in demographics that have accelerated over the past decade with the development of the 606 Trail," said DOH Acting Commissioner Jim R. Horan. "Encuentro Square puts a stake in the ground in a highly visible location that confirms the City's commitment to these 89 households being able to call Logan Square home."
Designed by Canopy / architecture + design, the development will provide 89 affordable units at or below 60% of AMI. Encuentro Square's amenities will include a community services lobby and community room, a teaching kitchen, on-site management offices, bike storage, a children's room, and lounge and courtyard. Community support services will also be available to tenants, including home-based head start in partnership with the Children's Place Association, as well as financial training and counseling. 70 of the 89 total units are family-sized units (two-bedrooms or larger). Fifty-five units will benefit from long-term project-based rental assistance administered by the CHA, of which 44 are family-sized units.
Find out more at URBANIZE