26 Sep 2022
Development Commission Approves Senior Housing at 9633 S Cottage Grove Avenue in Pullman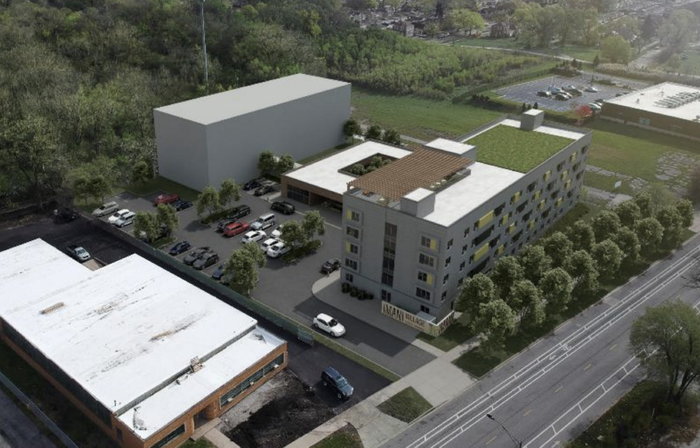 The Chicago Community Development Commission has approved financing for the residential development at 9633 S Cottage Grove Avenue in Pullman. Located north of the intersection with E 99th Street and surrounded by rail tracks, I-94, and Chicago State University, the project replaces a one-story commercial building near a heavily forested vacant lot. Part of the larger $1 billion in funding approved for affordable housing, developers Trinity United Church of Christ is working with Johnson and Lee Architects on the design of the multi-phase proposal.
Dubbed the 'Imani Senior Village', the new five-story senior-focused facility will rise 66 feet tall with an adjoining one-story building. This first phase contains 70 affordable residential units split into 577-square-foot 60 one-bedrooms, and 770-square-foot 10 two-bedrooms. Approximately 20 percent of these will be available for those making less than 30 percent of the Area Median Income (AMI) with the remaining offered to those making less than 60 percent of the AMI. The smaller-sized apartments will not contain in-unit washer and dryers with residents having access to a ground-floor laundry facility.
The adjacent one-story building will serve as an entrance and central amenity center for the two residential structures once the project is fully built. Within its 20-foot height residents will have access to vending areas, storage, a library/business center, wellness and fitness rooms, a salon, cart storage, and more. A rooftop deck will also be located on top of the residential building with 44 vehicle parking spaces occupying a new surface lot at the front of the property. Eventually the second phase will bring an additional 63 residential units and 18 vehicle parking spaces.
Further zoning approvals are necessary for the metal panel clad building as it'll sit on an industrial corridor. Since its approval, costs have also risen from $22 million to $32 million for which the approval granted $8 million in Tax Increment Financing (TIF) funds, helping it move closer to reality. Although no groundbreaking was disclosed, original plans called for a late 2022 construction start with work taking roughly 12 months and hoping to open in early 2024.
Read more on Chicago YIMBY
Attend Chicago Build Expo, the largest construction, design and real estate show for the Midwest. Gain access to 12 conference tracks and AIA CES approved workshops, check out 250+ exhibitors, learn from 350+ high-profile speakers and connect with 20,000+ built environment professionals.