19 Oct 2021
Developer Reveals Updated First Phase Plans For One Central Project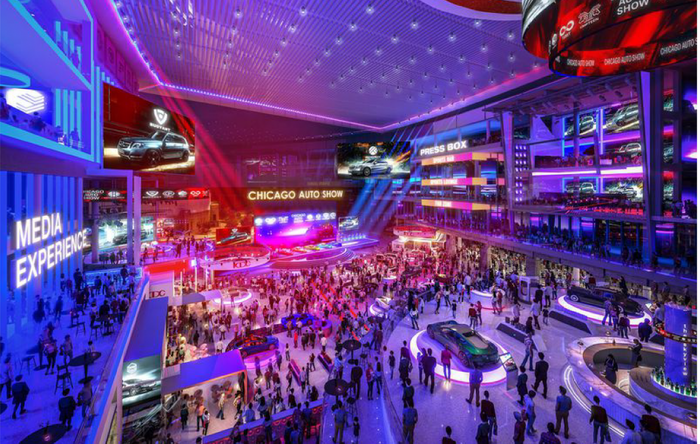 Landmark Development has revealed further details for the first phase of its One Central mega-development, which will cap the rail tracks in the Near South Side. Although often considered the most ambitious of the current mega-projects proposed for the city, such as The 78 and Lincoln Yards, Landmark is pushing forward with the Gensler-designed complex despite recent worries that The Chicago Bears could depart from nearby Soldier Field. The first phase will come at a cost of $3.8 billion and is being dubbed as the 'Civic Build' phase of the project.
Included in the first phase is the new multi-story transit hub which will connect CTA, Metra, and Amtrak trains together and includes a new transit line with stops like Navy Pier and Soldier Field. The transit hub would be connected to a new 400,000-square-foot Experiential District meant to serve as an extension of McCormick Place, and feature a digital media center and large event floor with the capacity to host informational attractions and tailgate-like events. Both of these parts would eventually be taken over by the city as part of the financial deal formed between the two.
The Experiential District is one of four districts envisioned in this first phase, as we previously reported, this will be accompanied by a Neighborhood District to the north. The 275,000-square-foot district is anchored by a grocery store and public market with the remaining space split between dining and retail destinations. South of the transit hub will be the 310,000-square-foot Lifestyle district which will be made up of various retail shops, an outpatient center, and other health and wellness offerings such as a large fitness club, similar to what we've seen at other major projects recently.
The last district will be the Entertainment District, the 435,000-square-foot area will bring new live entertainment venues, bars, nightclubs, and more dining experiences to the area. The stages here will join a continuously growing list for the city including Ramova Theater restoration in Bridgeport and Morton Salt Warehouse Complex in West Town. All four districts, the transit hub, and 200,000 square feet of residential space would be built simultaneously and are reportedly fully financed but awaiting the final piece of state funding to break ground.
Find out more on Chicago Yimby.