31 Aug 2022
Demolition Permit Issued for 350 N Morgan Street in Fulton Market District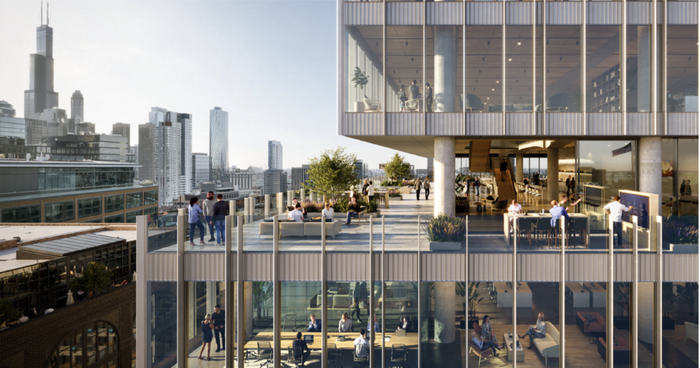 A demolition permit has now been issued for the 18-story mixed-use high rise at 350 N Morgan Street in Fulton Market. Developed by Sterling Bay, the 288-foot-tall project is set to yield 505,000 square feet of programming, consisting of primarily class A offices and a supplementary 15,000 square feet of programming. Built to accommodate open, creative office layouts, the tower will provide its tenants with 30,000 to 45,000-square-foot floor plates.
The contemporary design by Skidmore Owings & Merrill revolves around a massing made from offset stacked rectangular volumes. This shape will allow for expansive outdoor terrace space while creating a unique silhouette for the rapidly emerging Fulton Market skyline. The glossy facade will consist of a floor-to-ceiling window wall system lined with gray metal mullions.
Tenants will have access to private outdoor terraces on most levels, as well as a swath of amenities. There will be a full fitness center with folding windows, various co-working spaces, tenant lounges, a bar, rooftop deck, and an integrated three-story atrium with seating nooks and a large south-facing window.
Those commuting by car will have access to a 142-vehicle garage. Public rail access includes CTA Green and Pink Line service at the Morgan station via a two-minute walk southwest, while bus service can be found for CTA Routes 8 and 65 each within a five-minute walk.
Atlas Industries is serving as the demolition contractor for the occupying industrial low rise. Completion is expected for 2024.
Read more on Chicago YIMBY
Attend Chicago Build Expo, the largest construction, design and real estate show for the Midwest. Gain access to 12 conference tracks and AIA CES approved workshops, check out 250+ exhibitors, learn from 350+ high-profile speakers and connect with 20,000+ built environment professionals.