23 Jul 2022
Demo Permits Issued to Clear the Way for 232 W. Chestnut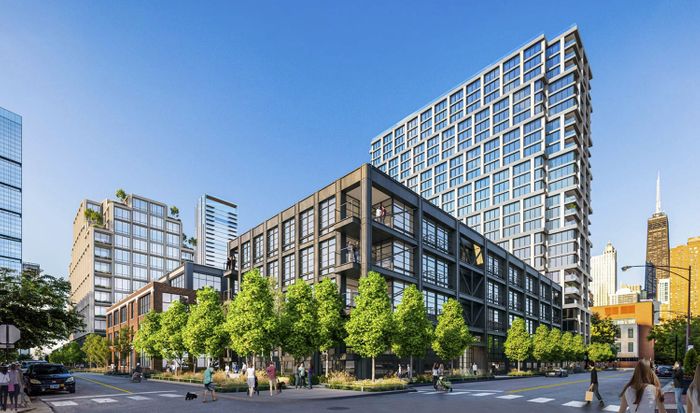 Demolition permits have been issued for a series of sites to clear the way for 232 W. Chestnut. As part of the southernmost block of North Union, the parcels will face the corner of W. Chestnut St and N. Franklin St. With JDL Development leading the mega project, this work indicates the new project at 232 W. Chestnut as the next in line behind 920 N. Wells and 868 N. Wells.
The three demolition permits were issued at 859 N. Franklin for a one-story masonry warehouse, 215 W. Locust for another one-story warehouse, and 210 W. Chestnut for a two-story masonry commercial building.
The permits for 859 N. Franklin and 210 W. Chestnut will clear a rectangular site for the new building addressed at 232 W. Chestnut. Designed by Hartshorne Plunkard Architecture, the new structure will stand five stories, holding 35 residential units. Standing 70 feet tall, the building will use a mass timber structure that will be clad in a steel structural facade.
The final demolition permit, for a one-story masonry warehouse at 215 W. Locust, will clear the midblock portion along W. Locust St for the construction of new outdoor space for the development.
Atlas Industries is serving as the demolition contractor for these properties. The new residential building at 232 W. Chestnut is expected to be completed sometime in 2023 or 2024.
Read more on URBANIZE Chicago
Chicago Build is the leading construction show for Chicago and the Midwest region. Gain access to 9 specialized summits, 250+ exhibitors, 300+ speakers and connect with 20,000+ registered visitors.