14 Sep 2022
Crown Installed at Salesforce Tower Chicago in River North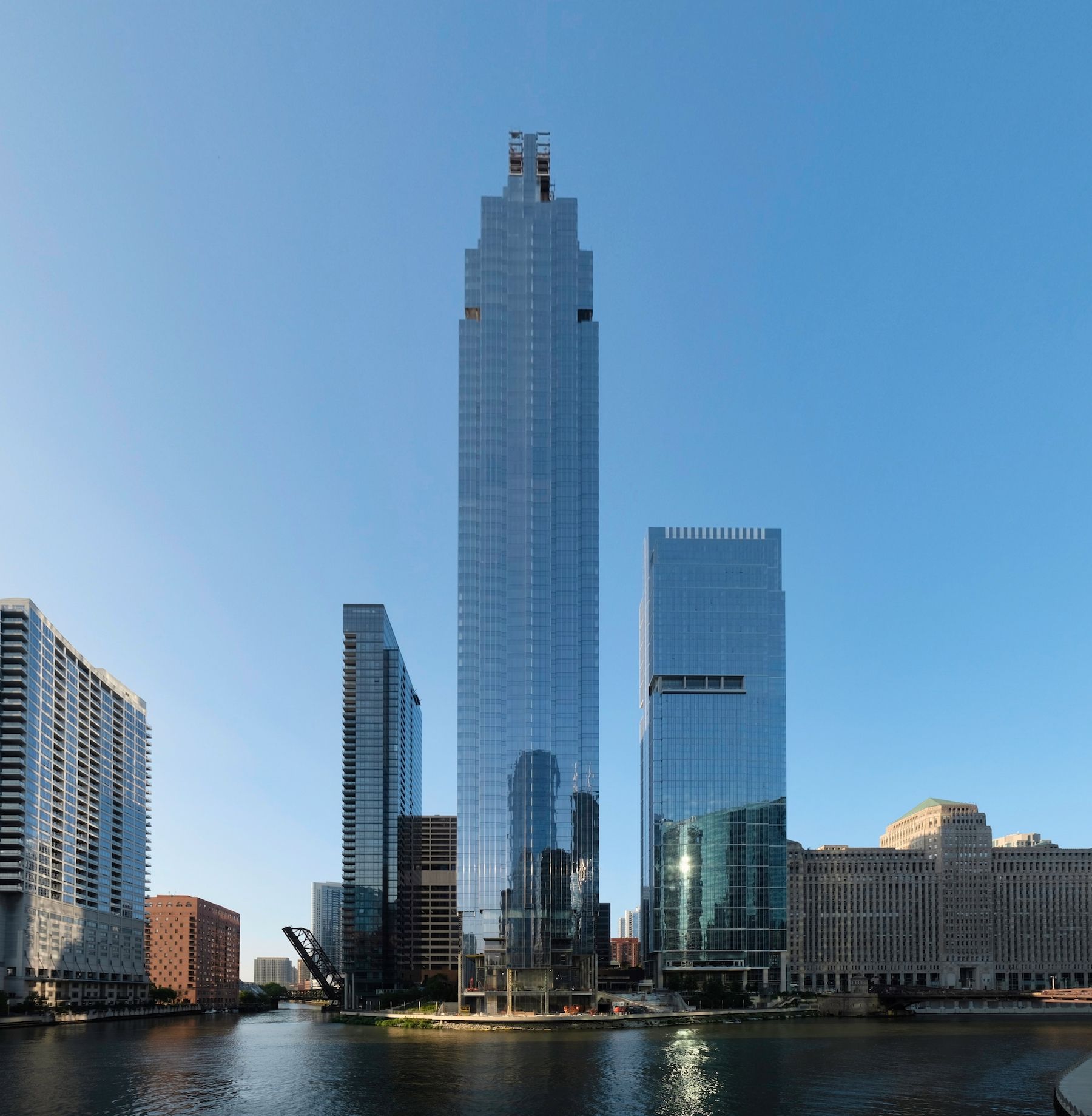 Crown installation can be seen for the 60-story Salesforce Tower at 333 W Wolf Point Plaza in River North. The mixed-use, primarily office tower is the third and final phase of the Wolf Point masterplan, developed by Hines in partnership with the longtime landowner Joseph P. Kennedy Family. At a height of 850 feet, the tower makes a substantial appearance on the northwest corner of the skyline, particularly when looking southeast along the Kennedy Expressway.
The base of the tower will be lined with multiple retail and dining options and an open lobby area for tenants. The floors above will house class A offices on 25,000-square-foot floor plates. These office floors will offer flexible build-out options and floor-to-ceiling windows with views in all directions. Amenity spaces will include a fitness center, a conference center, and a tenant lounge. Salesforce itself will occupy half a million square feet, tallying at just over a third of the building's 1.4 million square feet. Similar to its flagship headquarters in San Francisco, the top floor will be known as the Ohana Floor, which will serve as an employee lounge during the day and an events venue for educational and nonprofit events during off hours.
The design by Pelli Clarke & Partners reflects that of its shorter Wolf Point East neighbor. Both involve rectangular volumes with a multitude of setbacks for a tapering effect. The two also share a white corrugated motif arranged along their respective crowns. Around this boxy massing, Salesforce Tower is enshrouded in a glass curtain wall spanning its full height.
However, unlike Wolf Point East, Salesforce Tower features an all-glass facade rather than the corrugated metal panels seen on its neighbor. Additionally, the setbacks are not as extreme on Salesforce Tower, resulting in a more streamlined and elegant appearance. Given the glassy plethora of 700- to 800-foot riverfront towers built in the last decade, this stretch of downtown has become one of the world's glassiest skyscraper canyons.
The broader Wolf Point scheme is also significant or pushing the Riverwalk further northwest, offering 1,000 feet of uninterrupted promenade along the river bend. There will also be a large attached plaza space and a sloped park area adjacently east of the tower.
The closest CTA L service can be found for the Brown and Purple Lines, both located at Merchandise Mart station. The nearest Metra service is at Ogilvie Transportation Center. Lastly, the nearest buses for Routes 37 and 125 can be found at the intersection of Orleans & Merchandise.
Priced at $800 million for just this single phase, Walsh Construction has served as general contractor for the skyscraper, which is expected to complete by spring of next year.
Read more on Chicago YIMBY
Attend Chicago Build Expo, the largest construction, design and real estate show for the Midwest. Gain access to 12 conference tracks and AIA CES approved workshops, check out 250+ exhibitors, learn from 350+ high-profile speakers and connect with 20,000+ built environment professionals.