12 Jul 2022
Crews Launch $16 Million Lincoln Hub Streetscape Construction as Motor Row is Completed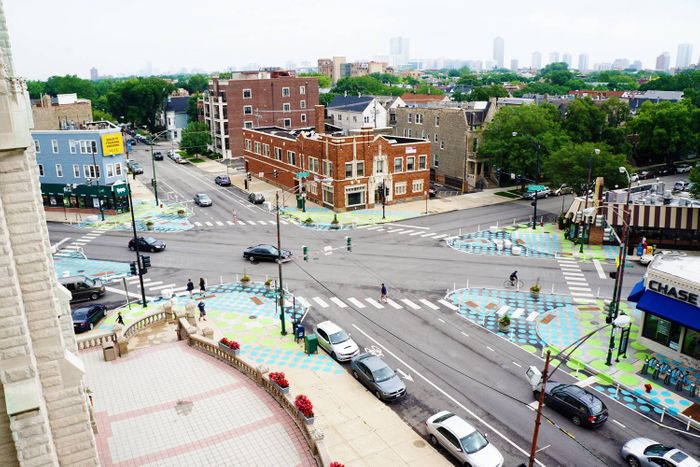 Construction on a Lincoln Hub streetscaping project will improve safety at a six-way intersection in Lakeview.
The project, expected to completed next summer, will include full-width resurfacing, new lighting and traffic signals, tree planting, widened sidewalks, new decorative crosswalks and larger pedestrian plaza spaces, said Gia Biagi, commissioner for the city's Department of Transportation.
The $16.6 million project is funded through a combination of federal, state and local sources using the city's Chicago Works capital investment plan, according to CDOT.
Polka-dot paint and plastic posts that used to create curb extensions at the intersection of Lincoln, Southport and Wellington will be replaced with permanent infrastructure.
The city plans 10 other streetscape enhancement projects in neighborhoods across Chicago and has committed $584 million for the work.
A ribbon-cutting ceremony was held for the recently completed Motor Row streetscape project.
Burke Engineering was the lead design consultant for the $11 million project and Sumit Construction was the lead construction contractor. Duroweld fabricated the gateway community identifiers that welcome all to Motor Row.
"By investing in infrastructure projects, we are doing more than just improving the appearance of our streets — we are also investing in the safety of our residents, encouraging economic development, and generating community pride," said Mayor Lori Lightfoot.
"Streetscape investments represent one of the many ways we are combatting an increase in dangerous driving. "
The streetscape at Motor Row features:
Reduced Pedestrian Crossing Distance
Improved Crosswalks
Decreased Travel Lanes
LED Smart Lighting
Widened Sidewalks
The streetscape at Motor Row also features aesthetic improvements that will have a long-term impact on the surrounding community:
Full-width pavement resurfacing
Parkway improvements and beautification
New benches, litter receptacles, and bike racks
New landscaping and trees
Community gateway elements and light pole identifiers
"Planning for the Motor Row project was a multi-year process," said Alderman Pat Dowell. "Working in partnership with CDOT and the residents' task force, we were able to create a streetscape that will bring lasting improvements to this section of Michigan Avenue for businesses and residents alike."
Read more on Chicago Construction News
Chicago Build is the leading construction show for Chicago and the Midwest region. Gain access to 9 specialized summits, 250+ exhibitors, 300+ speakers and connect with 20,000+ registered visitors.