23 Aug 2022
Construction Reaches Second Floor for Northwestern Medicine Advanced Outpatient Care Center in Old Irving Park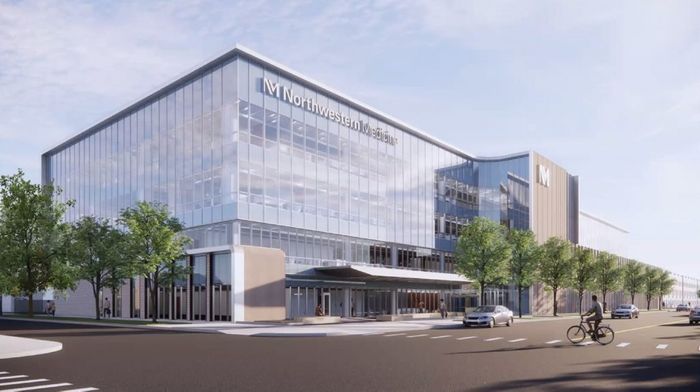 Construction on the Northwestern Medicine Advanced Outpatient Care Center in Old Irving Park has surpassed the first floor, with work now underway on the second level. Located at 4445 W Irving Park Road, the four-story structure is being built on a full city block bounded by W Irving Park Road, N Kenneth Avenue, and N Kilbourn Avenue. The 160,000-square-foot facility will offer a range of outpatient services, including fields such as cardiology, dermatology, endocrinology, infusion​, imaging, immediate care, lab draws, oncology, ophthalmology, optical shop, orthopaedics, physical therapy, primary care, and urology.
With Cannon Design as the architect, the structure will house large atrium lobby on the east side of the property to welcome patients, staff, and visitors. The middle section of the building, oriented around much of the clinical programming, will be encased in a tan masonry exterior that curves outward from the rest of the building. The westernmost side of the building includes a 350-vehicle parking garage with masonry and metal facade treatments. The exterior area around the building will have a 2,400-square-foot plaza with bike racks, seating, and greenery.
The LEED-certified construction will have eight electric vehicle charging stations, light spill reduction, materials with low-carbon sourcing, three green roofs, and bird-friendly windows with greater visibility.
The closest transit options to the project site are bus stops for Routes 54A and 80, located at the adjacent corner of Irving Park & Kilbourn. Rail service is available from the CTA L Blue Line and Metra, both within a 10-minute walk west to the respective Irving Park stations.
Power Construction and Ujamaa Construction have teamed up to build a $150 million project. The anticipated date of completion has not yet been announced.
Read more on Chicago YIMBY
Attend Chicago Build Expo, the largest construction, design and real estate show for the Midwest. Gain access to 12 conference tracks and AIA CES approved workshops, check out 250+ exhibitors, learn from 350+ high-profile speakers and connect with 20,000+ built environment professionals.