17 Jul 2023
Construction Progresses At 232 W Chestnut Street Within North Union Master Plan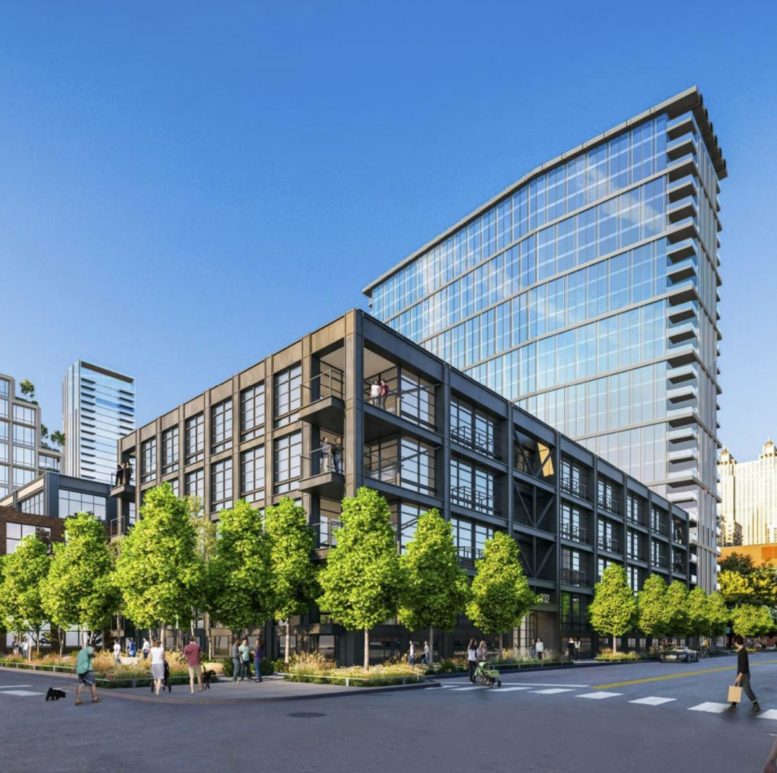 JDL's expansive North Union development project in Near North Side continues to make headway, with construction now above grade at one of its first three buildings, the five-story 232 W Chestnut Street. Situated at the junction of N Franklin Street and N Wells Street, the residential project will be Chicago's first modern large mass-timber construction.
Designed by Hartshorne Plunkard Architecture, the new edifice will house 23 residential units. The structure will use glue-laminated wood for beams and columns, reducing concrete foundation requirements. The ground floor will accommodate a small lobby and a large bike parking room. The building's exterior will be clad in charcoal extruded frames with a cross-bracing structure. Large corner balconies will stack as partially protruding and inset atop one another.
Meanwhile, construction at 868 N Wells Street and 920 N Wells Street also progress. All three buildings constitute the first wave of construction within the $1.3 billion North Union master plan, which includes 2.9 million square feet of space, 2,656 residences, various commercial units, and 100,000 square feet for public areas. Hartshorne Plunkard Architecture is the architect behind all phases.
Find out more at Chicago YIMBY