11 Oct 2022
Construction Permits Issued for Mixed-Use Development at 5259 N Lincoln Avenue in Lincoln Square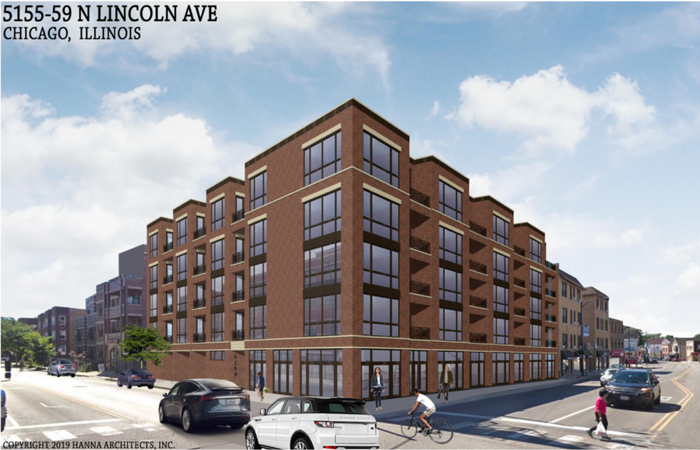 Initial construction permits have been issued for the mixed-use development at 5259 N Lincoln Avenue in Lincoln Square. Located on the southeastern corner with W Foster Avenue, the new structure will replace a currently vacant lot that up until recently held multiple one-story commercial buildings which were home to local stalwart Jimmy's Pizza Cafe. Developer Grand Properties Acquisitions LLC is working with Chicago-based Hanna Architects, who designed a very similar proposal just up the street at 5214 N Lincoln Avenue.
Initially proposed in January 2020, the project received minor re-designs during this period although it mostly remains the same. Rising five stories and roughly 64 feet tall, the ground level will be split roughly into two with a large 2,900-square-foot retail space on the main corner which is coupled with two live-work units facing N Lincoln Avenue. A small residential entrance for the floors above will be off of W Foster Avenue as well as the entrance to the 20-vehicle parking lot in the rear, this will be joined by 23 bicycle parking spaces.
The Transit Oriented Development (TOD) will contain an additional 40 residential units above for a total of 42 and be made up of studios, one-bedrooms, and two-bedroom layouts ranging from 400 to 1,000 square feet. Per the original presentations to the community, the largest two-bedroom apartment was set to rent for an average of $2,000 per month according to Block Club in 2020. Following older city codes, four of the units would be considered affordable, it is unknown at this time if the number has risen as the project has grown in size as well.
Future residents of the brick-clad structure will be able to utilize a shared rooftop deck with some of the units having a private inset balcony to break up the streetfront massing. For those foregoing a car, they will have direct bus access to CTA Routes 11 and 92, Routes 49 and 93 via a five-minute walk, and the CTA Brown Line at Rockwell stop via a 15-minute walk. The $65,000 new construction permit will allow for work to commence on the project with GB Construction LLC serving as the general contractor.
Read more on Chicago YIMBY
Attend Chicago Build Expo, the largest construction, design and real estate show for the Midwest. Gain access to 12 conference tracks and AIA CES approved workshops, check out 250+ exhibitors, learn from 350+ high-profile speakers and connect with 20,000+ built environment professionals.