15 Aug 2022
Construction Begins for 210 N Aberdeen Street in Fulton Market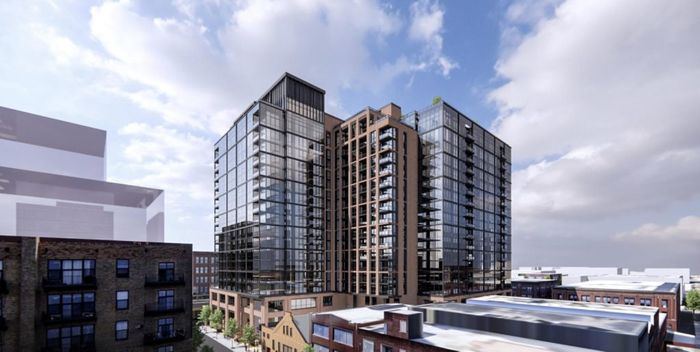 The ever-growing Fulton Market district is now seeing another new addition, as construction has begun for a 19-story mixed-use building at 210 N Aberdeen Street. The 214-foot-tall structure, planned by LG Development Group, will sit on an L-shaped site and include 10,700 square feet of retail space and 363 apartment units. The scope and design have changed slightly prior to construction, having reduced the total units from 414 and the height from 239 feet.
The project will feature a mix of studio, one-bedroom, and two-bedroom units, with a total of 73 affordable units on site. The development will also include a range of indoor/outdoor amenity spaces and 102 vehicular parking spaces and bike parking.
The design of the new building by NORR extends from its L-shaped footprint, creating two perpendicular wings. The tower portion of this massing will be set back from the three-story podium, allowing for a less encroaching street wall and the opportunity for additional terrace space. The facade will be composed of tan masonry cladding around the podium and center segment of the tower, while the second level will have a glass and metal curtain wall that wraps around the outer corners of each wing.
LG Development will also restore and preserve the historic Arthur Harris Building directly adjacent to the new construction. The outer shell of the structure will maintain its stone masonry facade and gabled roof, while the interior will be renovated extensively. A glass walkway will connect this portion of the development to the rest of the project as part of its retail component.
The area around the building is serviced by several bus routes, including Route 65 to the north, Route 8 to the east, Route 20 to the south, and Routes 9 and X9 to the west. Closest CTA Green and Pink Line service is accessible at Morgan station via a three-minute walk east.
Power Construction is serving as the general contractor on the $140 million build, with work expected to wrap up by 2024.
Read more on Chicago YIMBY
Attend Chicago Build Expo, the largest construction, design and real estate show for the Midwest. Gain access to 12 conference tracks and AIA CES approved workshops, check out 250+ exhibitors, learn from 350+ high-profile speakers and connect with 20,000+ built environment professionals.