18 Jul 2022
CoD Reviews 655 W. Madison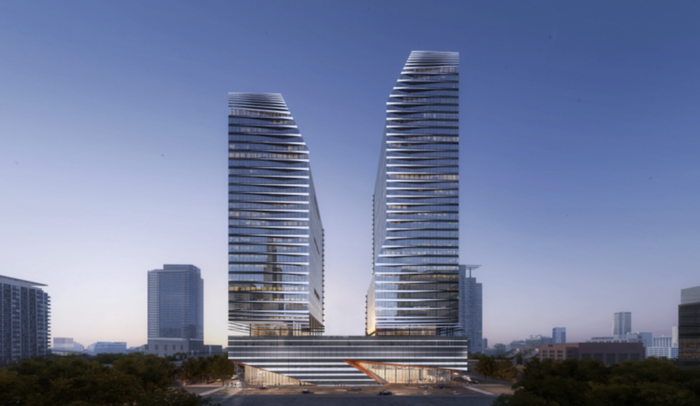 The Committee on Design has reviewed the two-tower office plan for 655 W. Madison. Located along the Kennedy Expressway, the project site is a full-block lot bound by W. Madison St, N. Desplaines St, W. Monroe St, and the highway. Conceived by The John Buck Company, the project is targeted at office tenants flocking to high quality Class-A office space within the city.
Designed as a collaboration between JGMA and HOK, the development consists of 1.5 million square feet of office space situated within two towers rising 39 and 29 stories. Retail and restaurant space will activate the ground floor, while parking will occupy three floors of the podium. Atop the podium, a one-acre rooftop park has been designed by Site Design Group, with multiple amenity offerings connected to the park on that floor.
The project's massing began as an extrusion of the site that was carved out to create a void between the two towers whose heights have been staggered. At the base, a sense of human scale has been added, with the towers having been separated visually from the podium. The tower masses have been carved to angle away from each other with the horizontal orientation of the floor plates accentuated with enlarged spandrels.
Driven by the expectations of Class-A commercial high-rise development, the towers have been developed with distinctive floor plates that measure 30,000 square feet on the low-rise portions and 27,000 square feet on the high-rise levels. Balconies will be included on the west elevation on every third floor. Each office floor will have its own isolated exhaust and intake air for the HVAC system, never mixing air between floors inside the building. The articulated spandrels on the tower act as functional gills to provide the fresh air for each floor.
Read more on URBANIZE Chicago
Chicago Build is the leading construction show for Chicago and the Midwest region. Gain access to 9 specialized summits, 250+ exhibitors, 300+ speakers and connect with 20,000+ registered visitors.