10 Apr 2023
City panel revives landmark proposal for State Street towers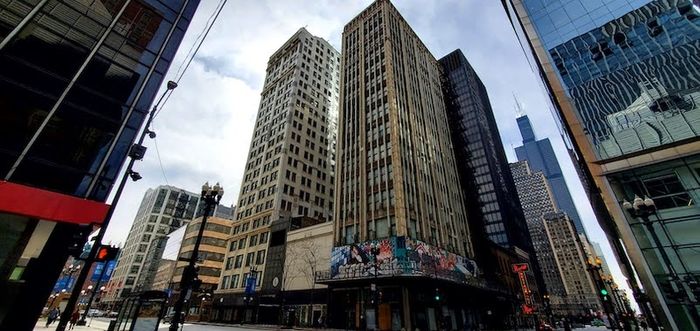 As the federal government moves ahead with a plan to demolish two historic buildings in the Loop, a city landmarks panel is poised again to take a key step that would save the towers.
The Commission on Chicago Landmarks Thursday will consider a proposal to assign preliminary landmark status to the Century and Consumers buildings on State Street, vacant properties that date back to the early 20th century. The federal government owns the buildings and wants to raze them to create a security buffer zone around the federal courthouse complex next door. A federal bill approved last year included $52 million to pay for the demolition plan.
But that move provoked preservationists who say the buildings at 202 and 220 S. State St. represent an important era of the city's architectural history and are worthy of landmark protection. Preservation Chicago, an advocacy group, wants to turn the buildings into an archives center, a use the organization contends would be compatible with the federal government's security objectives.
So far, however, the U.S. General Services Administration, or GSA, has not embraced the idea. It's unclear if the agency would fight the landmarking proposal, which has been in the works since last year. Last September, Ernie Wong, chairman of the Chicago landmarks commission, scrapped a planned vote on a landmarking measure for the buildings, saying the idea needed more study.
But the proposal is back on the agenda for the commission's Thursday meeting. Preservation Chicago Executive Director Ward Miller said he was "personally overjoyed" by the news.
"It was a beautiful moment to see those buildings included" on the agenda, Miller said, referring to the two State Street properties and a couple others being considered for landmark status.
Though federal officials, including Sen. Richard Durbin, have argued that the buildings must be torn down for security reasons, the GSA does not oppose the landmark plan. "GSA's position is formally neutral on the Commission's proposal to designate the buildings as landmarks under the Commission's criteria," a GSA spokeswoman said to Crain's.
The federal government has been notified of the commission's plan to consider the landmarking proposal, said a spokesman for the commission. The GSA hasn't presented a reuse plan for either structure, he said.
Read more at Chicago Business