10 Oct 2022
City Council Approves Rezoning for 43Green Phase II in Bronzeville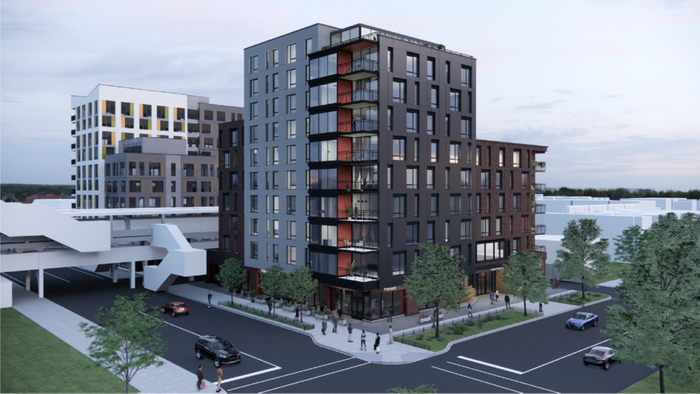 The Chicago City Council has approved the rezoning for the mixed-use development at 301 E 43rd Street in Bronzeville. Located on the southeast corner with S Prairie Avenue, the proposal replaces an existing commercial building with the second phase of the 43Green project for which Chicago YIMBY was able to speak with the architects last month. Developers P3 Markets and The Habitat Company are working with local designers Moody Nolan and Landon Bone Baker on the new affordable structure.
Occupying a majority of the 12,000-square-foot site, the 10-story 106-foot-tall structure will contain 3,517 square feet of retail space predominantly facing E 43rd Street, a residential lobby, 40 bicycle spaces, and 14 vehicle parking spaces on the first floor. This is due to being directly next to the CTA Green Line at 43rd station which makes it a Transit Oriented Development (TOD). The structure will be clad in brick as well as prefabricated textured concrete panels in a variety of colors to break down the overall massing.
The floors above will hold 80 residential units made up of 24 studios at around 475 square feet, 48 one-bedrooms at around 600 square feet, and eight two-bedrooms at around 1,010 square feet. Of these over half, or 44 in total, will be considered affordable for those making below the Area Median Income (AMI). Residents will also have access to various amenity spaces like a 7th floor outdoor deck with a bocce ball court, and a 10th floor terrace and community space.
There is bus service via CTA Route 3 via a five-minute walk, Route 29 via an eight-minute walk, and the aforementioned train station on site. The approval rezones the site from B2-3 Neighborhood Mixed-Use District and B3-5 Community Shopping District to a Planned Development, which will allow it to move forward to construction as soon as permits are pulled. Partial funding has also been approved in the form of Tax Increment Financing (TIF) and more, construction could begin before year's end.
Read more on Chicago YIMBY
Attend Chicago Build Expo, the largest construction, design and real estate show for the Midwest. Gain access to 12 conference tracks and AIA CES approved workshops, check out 250+ exhibitors, learn from 350+ high-profile speakers and connect with 20,000+ built environment professionals.