01 Aug 2022
City Council Approves 3310 N. Lincoln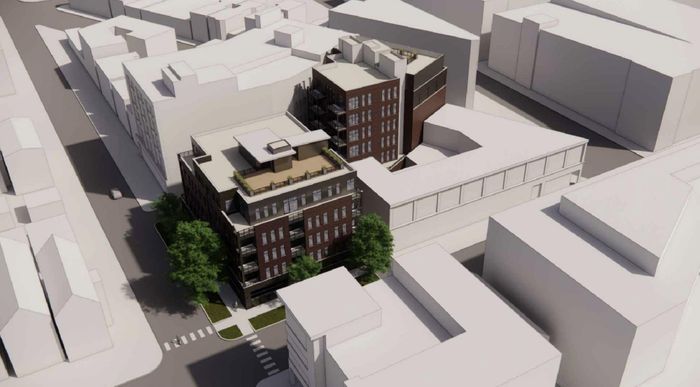 The Chicago City Council has approved the rezoning for 3310 N. Lincoln. Located just north of the intersection of N. Lincoln Ave and W. School St, the project's site is an irregularly shaped lot fronting the angled street. Planned by Mangan Builders, the former Rexx Rugs buildings will be demolished to clear the way for the new construction.
With a design from Johnathan Splitt Architects, the new construction will encompass a six-story mixed-use building. Rising 80 feet, the project will front N. Lincoln Ave with 2,227 square feet of retail space while holding 24 units on the upper floors. Split into 8 one-beds and 16 two-beds, approximate rents will run $1,900/month and $2,400/month respectively. Five of the apartments will be designated as affordable units.
The building will include 7 car parking spaces at the back of the ground floor, with EV charging stations included. Residents will also have access to 24 bike parking spaces.
While the rezoning application is limited to the site at 3310 N. Lincoln, materials from the developers show a plan for a complementary building at the corner of W. School St and N. Paulina Ave. Addressed as 1654 W. School, the building will stand five floors and hold another 23 residential units.
With City Council's approval to rezone 3310 N. Lincoln from B1-2 to B3-3, the developers can move forward with construction. Work is anticipated to begin this summer with completion penned for Spring 2023.
Read more on URBANIZE Chicago
Chicago Build is the leading construction show for Chicago and the Midwest region. Gain access to 9 specialized summits, 250+ exhibitors, 300+ speakers and connect with 20,000+ registered visitors.