08 Oct 2022
City Celebrates Groundbreaking for Englewood Connect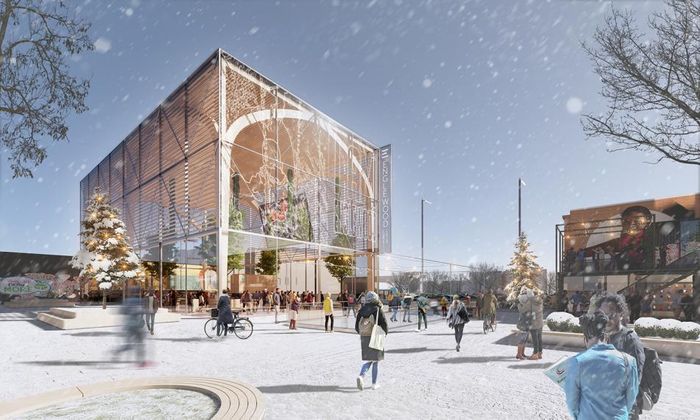 Mayor Lori Lightfoot recently joined Englewood community members to break ground on Englewood Connect, a $13.9 million culinary food hub that will occupy the historic Engine Co. 84 firehouse at 6204 S. Green. McLaurin Development Partners and Farpoint Development are serving as the developers for the project.
"I am thrilled to break ground on our city's latest INVEST South/West project," said Mayor Lightfoot. "Englewood Connect and the many other investments we are making in our communities will ensure that Englewood residents have abundant opportunities to live, work, and play in their neighborhood."
Designed by SOM and TNS Studio, the Englewood Connect vision is an entrepreneurial and community hub that will be an incubator for small businesses and entrepreneurs. The new center will create a local commerce and culinary ecosystem, foster greater connectivity and pedestrian access, and provide flexible public spaces. These spaces will be accessible to all local residents year-round and connected to the surrounding neighborhoods
Built in phases the first step will be to restore the landmark historic fire station that was originally built in 1929. Now vacant, the transformation will see it become a commercial kitchen and venue space for the neighborhood.
The second phase will see the construction of a flexible public space called the Green Street Commons and the Englewood Living Room, a proposed pavilion with operable doors and windows, which will be open year-round, allowing for markets, co-working spaces, exhibitions, and places for the community to gather and engage with one another.
Phase 1 is expected to cost $7.7 million, broken down into $208,000 in equity, $3.5 million in lender financing, and $4 million in TIF financing. The second phase, planned to cost $6.2 million, the funding stack will include $600,000 in equity, $3.6 million in lender financing, and $2 million in TIF funding. As part of the financial structure, the city will write down the land to just $1. BOWA Construction will serve as the general contractor.
According to the redevelopment agreement made with the city, the developers will need to construct and complete the first phase within two years of closing on the land purchase. Permits for Phase 2 must be secured within nine months after the closing date and completion must happen within two years after the commencement of work.
Read more on URBANIZE Chicago
Attend Chicago Build Expo, the largest construction, design and real estate show for the Midwest. Gain access to 12 conference tracks and AIA CES approved workshops, check out 250+ exhibitors, learn from 350+ high-profile speakers and connect with 20,000+ built environment professionals.