29 Sep 2022
City Announces LaSalle Street Reimagined Program in the Loop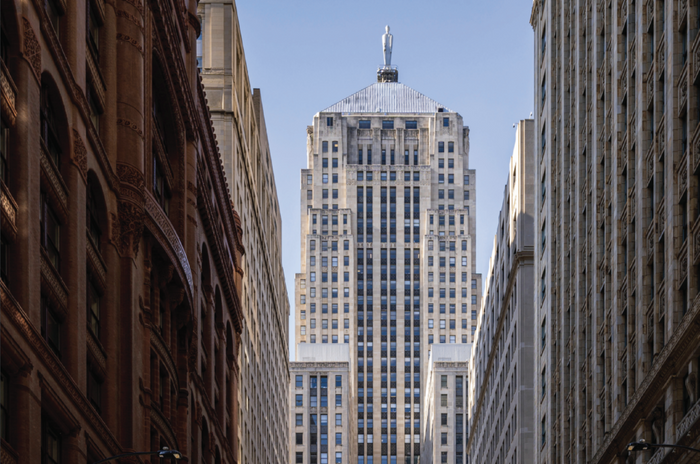 The City of Chicago has announced a new program which seeks to revitalize the aging LaSalle Street corridor in The Loop. Dubbed LaSalle Street Reimagined, the program launched this week with an Invitation For Proposals (IFP) by the Department of Planning and Development as well as the Department of Housing. The boundary of the area for projects will be W Washington Street to the north, W Van Buren Street to the south, N Wells street to the west, and mainly N Clark Street to the east, encompassing much of the once bustling financial district.
Once easily recognizable as the Wall Street of Chicago with the towering Board of Trade building at its end, the pandemic and tenant needs for modern spaces have left a large amount of vacancies on the road. Bank of America is one of the most recent ones leaving their tower at 135 S LaSalle Street for the recently completed 110 N Wacker tower, and the Board of Trade converting part of what was once one of the world's largest trading floors into a ComEd substation. But new hope is on the horizon with Google purchasing the Thompson Center at the northern end of the strip, sparking a hope for new demand.
That demand is what the program aims to foster but providing financial incentives for the residential conversion of structures within its boundaries. This money comes from the largely untapped LaSalle Central Tax Increment Financing (TIF) district, which currently contains $196 million to be used up by LaSalle Street Reimagined. It in itself was developed in collaboration with AECOM, Koo LLC, Johnson Research Group, Gensler, Applied Real Estate Analysis, and URBAN ReSOLVE, along with the input of current businesses on the street. Stakeholder engagement is set to continue for the next two to five years and thus the city is encouraging potential developers to have their own negotiations with property owners.
Although all buildings are up for grabs, special consideration will be given to those with high retail and office vacancies, with landmark designations, or for the 19 edifices that are orange and red rated. Those who respond to the IFP must also provide a Purchase and Sale Agreement for the subject property, along with plans to accommodate commercial tenants who plan to stay or to relocate them elsewhere downtown to foster a mixed-use area that is often seen as a nine-to-five neighborhood. Sustainability, preservation, improved infrastructure, affordability, and connection to the public realm are all the core values of the program.
Prior to fully submitting for the IFP, potential developers will need to present their plans to the Alderman and incorporate any relevant feedback before the selection process. One of the main aspects that is being required is that 30 percent of the proposed units must be affordable, adding to an area that currently contains none. These must be offered to those making 60 percent of the Area Median Income (AMI), of which one-third must be for those making 50 percent AMI, and one-sixth for those making at or below 40 percent AMI. These will also need to be comparable to the market rate units in size and finishes, all must be accessible, and must remain affordable for at least 30 years.
The IFP also prioritizes the re-use of unique and major architectural features like banking floors or lobbies, encouraging them to become grocery stores, cultural attractions, restaurants, or other similar uses. All proposals must also follow other city requirements including minority hiring, and if receiving funds from other preservation or low-income housing sources must comply to whichever provides the stricter code. The money can also be used for infrastructure improvements like new plazas, bike lanes, landscaping and such, which has been a point of contention since its announcement seeing other TIF district disputes such as Hudson Yards in New York.
The deadline for submissions is December 23, 2022 with initial informative meetings being held mid October. Decisions will most likely be made by next year as the city has been studying different approaches at revitalizing the corridor which suffers from 25 percent of office vacancy, 36 percent of retail vacancy, and foreclosures including the JW Marriott hotel. Various property owners are already in talks with the city to participate in the initiative, although the city will retain no ownership of any of the projects, other incentives will also be available as needed including federal, state, and county as necessary. Chicago YIMBY will continue to report on the proposals as they are made public.
Read more on Chicago YIMBY
Attend Chicago Build Expo, the largest construction, design and real estate show for the Midwest. Gain access to 12 conference tracks and AIA CES approved workshops, check out 250+ exhibitors, learn from 350+ high-profile speakers and connect with 20,000+ built environment professionals.