20 May 2019
Chicago's Garfield Green development proposal wins global design competition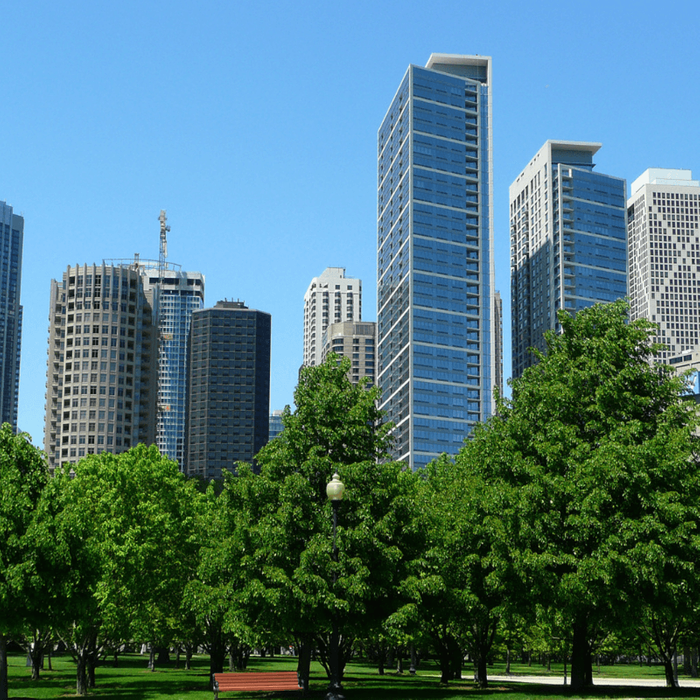 The project addresses climate change through sustainability
On Wednesday, the mayor's office announced Chicago's Garfield Green housing proposal was selected as a winner in C40's global Reinventing Cities competition. Now, the design team will take steps to make it a reality.
The contest invited cities to propose projects that turned vacant lots, abandoned buildings, and parking lots into innovative, sustainable development that could mitigate climate change. There were 14 cities that submitted 31 infrastructure and housing projects back in 2017.
Garfield Green was designed by architecture firm Perkins+Will for a 1.5-acre vacant site at the corners of Kedzie and Fifth avenues. It's near the Garfield Park Conservatory and Kedzie Green Line station. The $22.3 million project has plans for 77 apartments: 32 affordable-rate units, 31 cooperative housing units, and 14 market-rate units. There's 20,000 square feet of public space and a 12,000-square-foot public plaza.
The design prioritizes sustainability by using solar panels to supply all energy needs, modular construction materials made in Little Village, and a green roof that will grow food and help with storm water runoff. Also included in the proposal is a plan for a clinic to address health issues like an increase in asthma rates.
In 2017, the mayor made two city-owned sites available for the competition, the East Garfield Park lot and an industrial property on Pershing Road in McKinley Park. Three proposals for the Garfield Park site were shortlisted but proposals for McKinley Park didn't meet the city's requirements.
The project team plans to acquire the site for $600,000 later this year. Before moving forward, the proposal must get feedback from the community and get City Council approval. In addition to Perkins+Will, the team includes POAH, Skender Construction, sustainability consultant dbHMS, and TERRA Engineering.
Source: Curbed Chicago
---
Chicago Build is the leading construction show for Chicago and the Midwest. Gain access to 8 specialized summits, 200+ exhibitors, 200+ speakers and connect with 10,000+ registered visitors.