20 Feb 2020
Chicago's $2.1B Chicago Transit Authority Modernization Well Under Way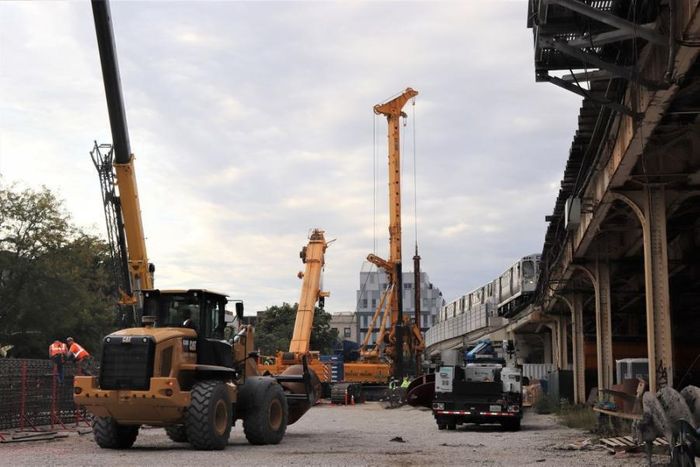 Construction crews drilled the first shafts last fall for the $1.2 billion phase one of the Chicago Transit Authority's $2.1 billion Red-Purple Modernization Program, the largest capital improvement project in the agency's history. The program will modernize train service on a 9.6-mi. stretch of track by replacing old rails, adding an overhead bypass and rebuilding four stations on the line. The track was originally built in 1924 under President Calvin Coolidge and during the era when the Wrigley Building had just been completed.
"The Red-Purple Bypass Project is a critical part of RPM Phase One that will ensure we can deliver quality, reliable and comfortable rail service to our customers," the CTA said in a project overview. "It benefits riders on the Red Line, our busiest rail line with more than 125,000 riders a day, and other rail lines by addressing chronic overcrowding and delays and modernizing infrastructure that is more than a century old. The Red-Purple Bypass to be built north of Belmont, and reconstruction of Red and Purple Line tracks just to the north of the bypass, will allow us to add trains during our busiest periods while providing a ride that is smoother and more reliable."
The shafts drilled are for the foundations of the flyover portion of the bridge that will take the new track for the Brown Line over the existing four tracks. In its current configuration, the Brown Lines intersect with Red and Purple Lines, causing delays when one line is stopped to allow another to pass. The project also will allow CTA to add more trains.

"We started in October about the time we wanted to," said Don Henry, construction manager of the Walsh-Fluor Design-Build Team. "We can drill in the winter, and then we might pour some concrete if the weather cooperates. We will continue the drilled shafts for this stage and after those are poured we will start the substructure of the bypass. That consists of the columns and caps. We will have those completed in March or April. In April or May, we'll start erecting the structural steel. For the next six months to a year, we'll be building the foundation, superstructure, substructure, and tracks. The flyover itself will be put into use in June 2021. Then we've got the existing mainline. We'll demolish the four tracks and rebuild it all. We'll start that June 2021, and we will finish that somewhere around the first quarter of 2024."

Read more at Construction Equipment Guide
---
Chicago Build is the leading construction, design and real estate show for Chicago and the Midwest. Chicago Build is free to attend and features 15,000+ registered attendees, 230+ speakers, 300+ exhibitors, extensive business networking and the Chicago Transport Show. Register free tickets.