09 Jul 2022
Chicago River North Mixed-use Project Given Green Light for Second Phase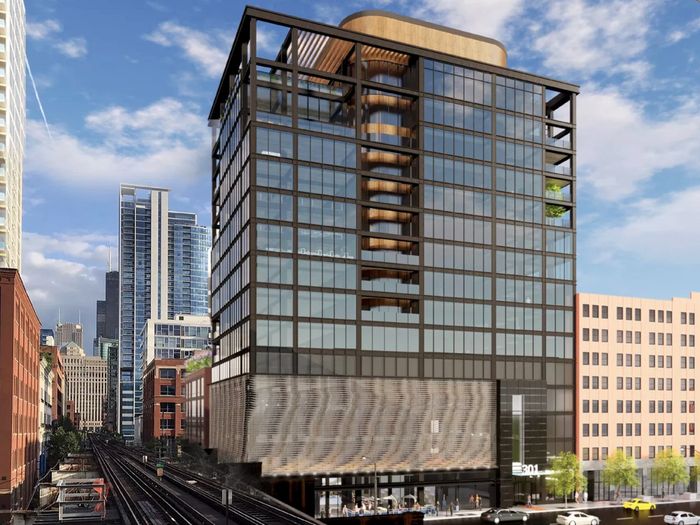 onstruction of the second stage of the River North Chicago mixed-use complex can now begin. This is because a complete building permit has been issued to North Wells Capital for the development of the 15-story mixed-use project at 311 West Huron Street. The project is part of its Verso development.
By September 2023, construction, which is projected to cost $88 million, will be finished. The structure will stand 226 feet tall and have a total floor area of 153,000 square feet. Most of the space will be taken up by offices. Spins, a market research firm obtained 48,000 square feet on the top three floors. They joined as an anchor tenant early this spring. The 16,250 square foot plates that make up the office levels will have ceilings that are slightly under 13 feet high.
It will contain 130 parking spaces and 8,500 square feet of ground-floor retail as its anchor. At 306 West Erie Street, the initial phase of the Verso master design comprised remodeling and constructing an expansion. At 320 West Huron Street, a lot will be involved in the third and last phase.
More on the River North mixed-use Chicago
NORR Architects is creating the front for 311 West Huron, which will have black metal paneling and floor-to-ceiling windows. A dynamic metal wall with sections that move in response to the wind will also be included. The building's roof will be a circular penthouse.
Athletic club operator Life Time created a coworking space close by, at 14 West Superior Street, in the same building as one of its clubs. For its Life Time Work flex space, which is utilized for office memberships that also grant access to the facility's gym, the business set aside 39,000 square feet.
"There is a competition for facilities. Some of the older merchandise is making a lot of effort to grab more attention. According to James O'Reilly, president of Life Time Work, "the workplace and what it means to be a place to work are currently undergoing a big rethink.
Read more on Construction Review Online
Chicago Build is the leading construction show for Chicago and the Midwest region. Gain access to 9 specialized summits, 250+ exhibitors, 300+ speakers and connect with 20,000+ registered visitors.