29 May 2019
Chicago Opens New Libraries and Affordable Housing Projects After Design Competition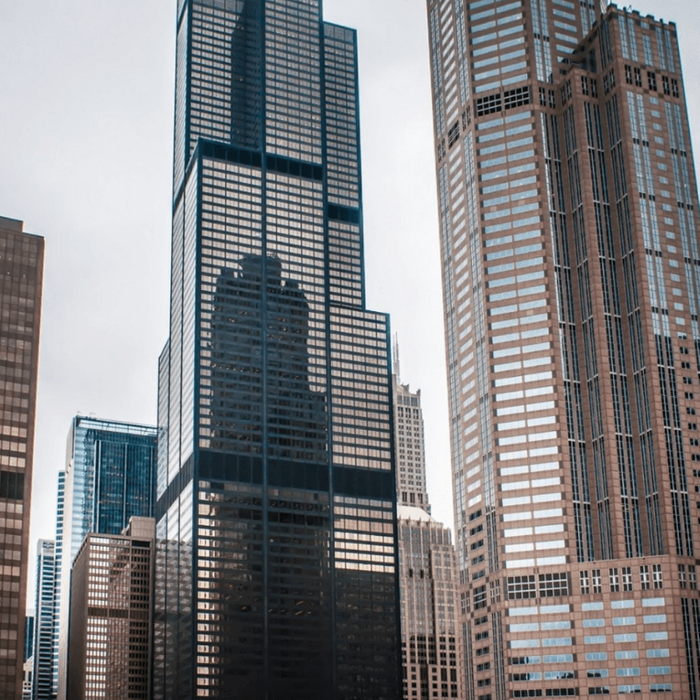 Perkins + Will is an eighty-year-old architecture firm with noteworthy designs across the world, including the 850-foot Chase Tower in Chicago, where the firm is based. Its architects have designed university buildings in Vancouver, Beijing, and Saudi Arabia, and museums in São Paulo, Shanghai, and Washington, D.C. In 2017, it had the second-most revenue of any firm in the United States.
This month, the firm is marking the completion of a new kind of project: A new neighborhood branch library co-located with affordable housing for seniors in Chicago. The project, called Northtown Branch, is one of three new co-located library/affordable housing projects in the city, commissioned through a design competition announced by Mayor Rahm Emanuel in 2016. It includes 44 apartments: 30 of them will be rented to people on the Chicago Housing Authority waiting list and another 14 are reserved for people earning up to 60 percent of area median income.
Perkins + Will has "dabbled around the edges" of affordable housing projects, mostly with market-rate developments that require some reduced-rate units as part of an inclusionary housing policy, says managing principal Doug Smith. But Northtown was the first project the firm completed with a public housing authority.
"There is a strong demand in the community for affordable senior housing, and I think it was somewhat a little surprising at how strong an advocate the community was for this housing type," Smith says. "Sometimes, whenever you hear about affordable housing coming into your neighborhood, some people can be very, 'Well, yes that's alright to provide someplace else, but not in my backyard.' But the community was very supportive, and they were looking for as many units as they could possibly fit on the site."
The winning firms were selected based on the responsiveness of their designs to the neighborhood context, sustainability elements, and building layout and landscape design. Smith says the firm tried to design the building so that it would transition between a commercial corridor on one side and a "traditional Chicago bungalow community environment" on the other. It also includes large windows and views of nearby Warren Park because, Smith says, "We wanted to make sure that when you're occupying these spaces you're experiencing the outdoor daylight."
As Chicago Housing Authority CEO Gene Jones put it, "Northtown Library is the most unique and the most dynamic, architecturally, that I've seen in this city in a while. It should win many awards."
The idea of combining public libraries with affordable-housing projects is starting to catch on, if only very slowly. Building housing alongside community amenities like public libraries give new residents an immediate connection to the neighborhood. The new co-located libraries will have services to support early literacy, tools for digital design and music recording, and workforce development support.
In February, the Brooklyn Public Library broke ground on a new branch that will be combined with 49 units of "deeply affordable" housing units, reserved for residents earning 30-80 percent of median income, with the majority earmarked for people earning less than 50 percent of median income. (Next City contributor Jen Kinney wrote about the project in 2016.) Last fall, San Francisco Supervisor Sandra Lee Fewer floated the idea of building new housing at the city's typically low-density neighborhood library branches, as Next City reported.
"There are some cities that have done library and housing projects around the country, but combining them in just the way that the Chicago Housing Authority and the library and the City of Chicago did is fairly novel," says David Block, director of development at Evergreen Real Estate Group, which was selected to develop two of the three projects in Chicago, including Northtown.
The project required a potpourri of financing. According to a press release from the mayor's office, CHA, the City of Chicago Department of Planning and Development, the Illinois Housing Development Authority and half a dozen private lenders all contributed to the project.
Even still, the budget was tight, Block says. And even though it was a public project designed by notable architects, he says it was still a challenge to find reasonably priced contractor.
"Everybody who works in construction [in Chicago] is fully employed or over-employed, so subcontractors can almost charge whatever they want," he says.
After responding to a Request for Proposals, Evergreen was selected as the developer for two of the projects, because CHA "saw some management economies of scale" in having one developer carry out two projects, Block says. And while there were early doubts that the design competition would produce anything beyond renderings, the competition factor — and the support of the mayor and the local alderman — built momentum behind the project.
"The fact that it was a design competition made it exciting, but it also made it challenging," Block says. "We never questioned whether the original design was the right thing, we just said, 'OK, this is what we were given. Our challenge is to make it happen.'" Northtown is the third library/senior housing project to open: The other two libraries, including the other one built by Evergreen, opened in January.
The timeline was tight, too, Block says. Hosting a competition is a good way to get top design firms involved and to create energy around a project like Northtown, but Block says mixed-use projects take more time than conventional ones, and the pressure was on from the start.
"You would be well served to allow a little extra time to do it," Block says. "The biggest challenge we faced was not so much the original terms of the competition, but trying to do it so quickly."
Source: Next City
---
Chicago Build is the leading construction show for Chicago and the Midwest. Gain access to 8 specialized summits, 200+ exhibitors, 200+ speakers and connect with 10,000+ registered visitors.