09 Oct 2019
Chicago developers John Bucksbaum wants to build seven-story "co-living" project at the southeast corner of Chicago Avenue.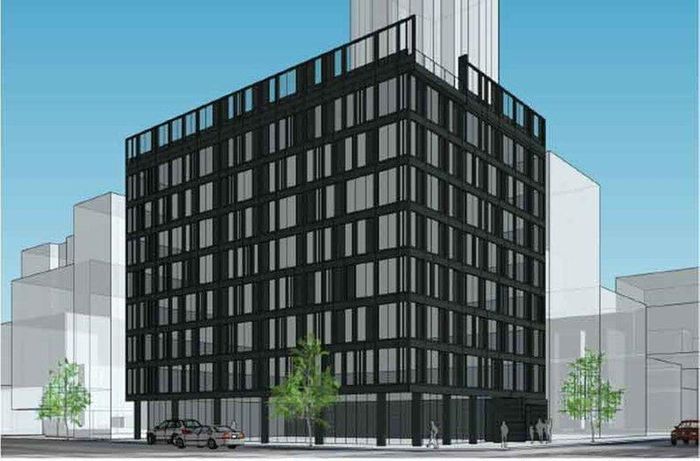 Two more developers are cooking up residential projects on Chicago Avenue in River North, including one that will feature 36 apartments rented out dorm-style: by the bed, not the unit.
Chicago developer John Bucksbaum wants to build the seven-story "co-living" project at the southeast corner of Chicago Avenue and LaSalle Street. Bucksbaum would team up on the 108-bed development with Common, a New York-based firm that has been opening co-living buildings across the country.
By embracing co-living, Bucksbaum is betting on a residential trend that's still in its early stages but is catching on in big cities where housing is expensive. Often described as dorms for adults, co-living caters to younger professionals who want to live in prime locations and are willing to bunk up with strangers to keep their rental costs down. The arrangement also appeals to renters who are new to Chicago and want to meet people.
Though renting by the bed isn't inexpensive—Common's rents in Chicago range from $975 to $1,225 per month—it typically costs less than a one-bedroom apartment in the same neighborhood.
"River North is obviously a popular place," said Bucksbaum, CEO of Chicago-based Bucksbaum Properties. "At the end of the day, you're trying to make River North affordable to those who might otherwise find it unaffordable."
About four blocks west, Chicago-based LG Development plans two neighboring residential buildings. At 401 W. Chicago Ave., on the west side of Sedgwick Street, LG has proposed a nine-story, 59-unit condominium project, according to a presentation posted on the website of the River North Residents Association, a neighborhood group. The presentation also includes an alternative plan for a 93-unit apartment building on the site.
Immediately to the west, at 757 N. Hudson Ave., LG has proposed a nine-story building with 133 apartments, according to the presentation. It's unclear when LG presented its plans to the River North group or whether the proposal has changed since then. LG and River North Residents Association representatives did not return phone calls.
An LG venture in September paid $14.2 million for the property where it plans the two buildings, according to a deed filed with Cook County. It bought the 42,000-square-foot site—part of it is a surface parking lot—from a venture controlled by the Pepper family, owner of Chicago-based Pepper Construction. The site had been on the market for two years.
Bucksbaum, meanwhile, last year paid $4.2 million for his parcel, which totals about 6,400 square feet and is the site of a check-cashing store. He didn't provide a timetable for the project, saying it's still in the planning stage.
Common currently operates four co-living properties in Chicago: in Pilsen, Ukrainian Village, Uptown and Lakeview. The city also has attracted other co-living operators, including Quarters, the U.S. arm of Berlin-based Medici Living Group, which runs a 175-bed property in the Fulton Market neighborhood.
The Bucksbaum and LG projects add to a growing list of developments along Chicago Avenue downtown. At Chicago and Wells Street, Amli Residential plans a 17-story tower that would include 297 apartments. A block west of LG's site, Chicago developer Daniel Rezko has proposed a 24-story, 216-room hotel. And the biggest residential project under construction in River North is rising across from the Holy Name Cathedral at Chicago and State Street: One Chicago, a 76-story skyscraper with 795 apartments and 79 condos.
Source: Crain's Chicago Business
Chicago Build is the leading construction show for Chicago and the Midwest. Gain access to 12 specialized summits, 200+ exhibitors, 200+ speakers and connect with 10,000+ registered visitors.