26 May 2022
Chicago City Council Approves Bally's Casino Bid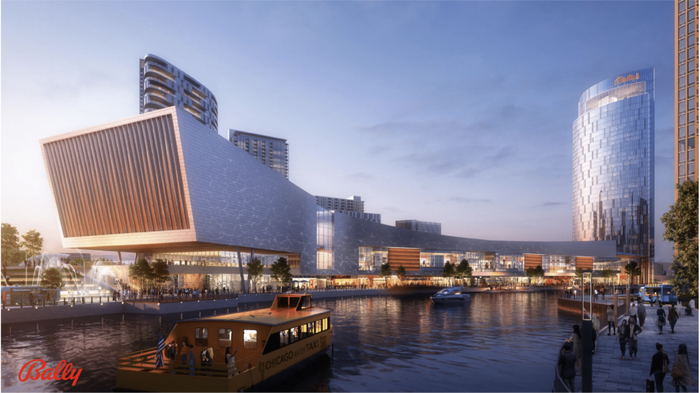 The Chicago City Council has approved Mayor Lori Lightfoot's selection of Bally's Tribune Center casino bid at 777 W Chicago Avenue in River West. Replacing the vacant printing plant, the decision comes just weeks after the mayor selected the proposal as the finalist from the original batch of five bids which was then narrowed down to three earlier this year. Rhode Island-based Bally's is working with local architecture firm SCB on the riverfront project that gathered plenty of feedback and comments from both the community and the aldermen during the heated meeting.
Beating out bids from Hard Rock at One Central and Rivers at the 78, early rumors that the proposal was at the forefront of the race circled around when a West Loop committee met with the casino's team and multiple developers announced plans for projects near the site. Although the vote marks the end of a 30-year long attempt to secure a gambling center in the city, in typical Chicago fashion it didn't come without plenty of controversy. Most recently the decision was called out for being biased due to the city using the same law firm and gaming consultant that Bally's had used on previous properties according to Crain's.
Bally's will be making an upfront payment of $40 million to the city as part of its bid, this will help settle debts owed for the pension funds of both the police and fire departments, with nearly $200 million a year in profits expected to come in once the final facility is completed. Other benefits expected are the creation of 6,000 jobs including union roles, a new workforce development program with City Colleges, and a commitment to hiring 15 percent of its employees from economically disadvantaged neighborhoods.
Read more on Chicago Yimby
Chicago Build is the leading construction show for Chicago and the Midwest region. Gain access to 9 specialized summits, 250+ exhibitors, 300+ speakers and connect with 15,000+ registered visitors.