06 Nov 2019
Century-old former synagogue in Logan Square reborn as apartments, pocket park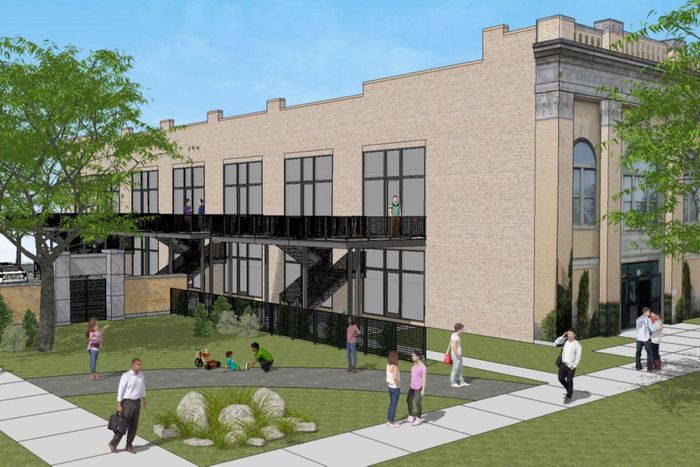 The project preserves a historic building and brings public open space to the Palmer Square community.
A historic Logan Square building that served as a community center for Temple-Beth El synagogue and, more recently, a Boys and Girls Club, is preparing to start a new chapter as a 14-unit apartment development dubbed Palmer Lodge.
The project preserves the old yellow brick and limestone structure at 3228 W. Palmer Street, designed by architect Edward Steinborn in the 1920s. The development represents a win for local preservationists who feared the building would be demolished after the Boys and Girls Club put the property on the market last year.
Saving the building was a team effort led by preservation groups, neighbors, and Alderman Scott Waguespack (32nd Ward)—who introduced a down-zoning measure to limit what could be built at the site should its new owners choose demolition. Luckily for them, the building sold to a team of developers that supported adaptive reuse.
"It was very clear from the beginning that the community's priority was to preserve the building," says developer Chris Dillion of Campbell Coyle Real Estate, which partners with co-developers New Era Chicago and Ranquist Development and architecture firm Pappageorge Haymes Partners. "We went through a community engagement process and have collaborated with Logan Square preservation to provide a publicly accessible park on the site's southwest corner."
While the plan saves the former synagogue, it does demolish an annex building added to the west side of the property in the 1950s. The developers explored saving it too, but instead worked with the community to design space for 12 parking spots and the creation of a new pocket park.
Although the old structure spent many years as a religious site, future renters shouldn't expect to see repurposed pews or restored stained glass windows at Palmer Lodge. "Since it was a Boys and Girl's club for more than 60 years, there wasn't much left inside to indicate it was once a place of worship," Dillion tells Curbed.
Without much interior ornamentation to work with, the development team will rely on the building's structure to give the units a unique, loft-like appearance. Historic masonry and terrazzo elements will be joined by modern fixtures, says Dillion. "We're looking to emphasize the materials to stand out in a marketplace where renters are seeing a lot of the same thing."
Work on the project started last month with interior demolition. The adaptive reuse portion of Palmer Lodge landed its first building permit this week, reported Chicago Cityscape. Crews will focus on structural repairs before preparing to subdivide the old building into 10 two-bedroom units, 2 one-bedrooms, and 2 three-bedroom apartments.
Palmer Lodge is expected to welcome its first residents next year.
Source: Curbed Chicago
---
Chicago Build is the leading construction show for Chicago and the Midwest. Gain access to 12 specialized summits, 200+ exhibitors, 200+ speakers and connect with 10,000+ registered visitors.