19 Jul 2022
Caissons Permits Issued for Mixed-use Development at 626 S Wabash Avenue in South Loop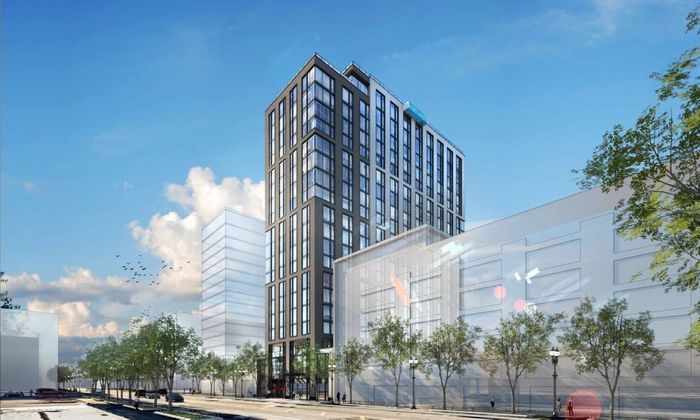 Caisson permits have been issued for the planned mixed-use development at 626 S Wabash Avenue in South Loop. YIMBY reported on the project in August 2021 under the address 630 S Wabash Avenue. The project is being developed by DAC Developments in tandem with Melrose Ascension Capital. The lot is currently vacant.
Designed by Antunovich Associates, the project will consist of a 19-story mixed-use building. There will be a total of 164 residential units and 4,100 square feet of retail space on the ground floor. The building was originally reported as a "co-living and student housing" tower, and while the scope has broadened, the development is still hoping to attract a mix of students and young professionals.
The build will include 80 studios ranging from 450 to 580 square feet offered for rents ranging between $1,700 to $2,100. There will be 24 two-bedroom configurations clocking in around 800 square feet and offered for an estimated $3,000 monthly. The remaining 60 units are planned as four-bedroom apartments of about 1,200 square feet. The four-bedroom units will rent for roughly $5,000 a month.
There are a number of planned tenant amenities planned throughout the property site including ground-floor bike parking, a cafe, a dog run, and a dog wash station. The building will also provide tenants access to an onsite fitness center, a yoga studio, a coworking space with wifi, an outdoor terrace, a basketball court, and a rooftop pool and hot tub. There will be 64 parking spaces on site.
The project is moving forward with the existing DX-12 zoning. There are no plans for any zoning amendments or variances, rendering approvals from the city unnecessary. With these initial foundation permits issued for the project, Focus Construction, the acting general contractor for the build can begin work.
Read more on Chicago YIMBY
Chicago Build is the leading construction show for Chicago and the Midwest region. Gain access to 9 specialized summits, 250+ exhibitors, 300+ speakers and connect with 20,000+ registered visitors.