30 Mar 2023
Bronzeville Lakefront Breaks Ground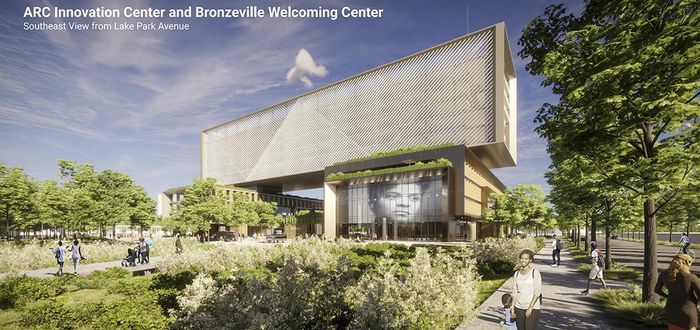 Mayor Lightfoot, city officials, and GRIT broke ground on Bronzeville Lakefront yesterday. Made up of Farpoint Development, Loop Capital, Chicago Neighborhood Initiatives, McLaurin Development, and Bronzeville Community Development Partnership, GRIT convened to break ground on the infrastructure for the 48-acre megadevelopment.
Planned for the former Michael Reese Hospital site, the developers worked with the city to acquire the site for $96.9 million, approved by City Council for the future development of 7 million square feet of space that will include over 5,000 new residential units, 20% of which would be affordable units, the rehabilitation of the Singer Pavilion, a new senior housing building, as well as new retail and office space, a data center, and a 40,000 square foot community center.
"The Bronzeville Lakefront project will bring thousands of permanent and temporary jobs along with greatly needed affordable and market-rate housing to the near South Side," said Mayor Lightfoot. "I'm thrilled to partner with the GRIT team on the development of this site that has sat vacant for more than a decade. Through this partnership, we will bring transformational change to the surrounding neighborhood."
The city approved a $60 million infrastructure agreement that will fund the creation of the new street grid and infrastructure within the site, including new green space, bike facilities, sidewalks, and utilities. The city also played a critical role in funding and completing the Carnotite remediation which allows this infrastructure work and development to move forward.
"Bronzeville Lakefront has been designed to spur economic growth in a socially equitable way," said Scott Goodman, GRIT partner and Founding Principal at Farpoint Development. "It will put a sustainable ecosystem in place, attract diverse tenants, generate jobs, and become a model community of the future. The GRIT partnership is grateful for the commitment and cooperation of Mayor Lightfoot and the City team, Ald. King, the Bronzeville community, and especially the Michael Reese Advisory Council."
Set to kick off after infrastructure work is done, Phase 1 of the project will produce 1.1 million square feet. Designed by Skidmore, Owings, and Merill, the first building of the plan will be the Bronzeville Innovation Center. Rising 178 feet, the 500,000 square foot building will be anchored by the Chicago ARC, a life sciences and health innovation accelerator in partnership with Sheba Medical Center, and the Bronzeville Welcoming and Community Center. Retail space and the community center will face the park and ground floor plaza, while the upper portion of the structure will hold laboratories and office space for life sciences tenants.
The development will be executed in phases and is expected to be completed in 2035.
Read more on URBANIZE Chicago