15 Aug 2022
Brinshore Development Breaks Ground on Stephens Commons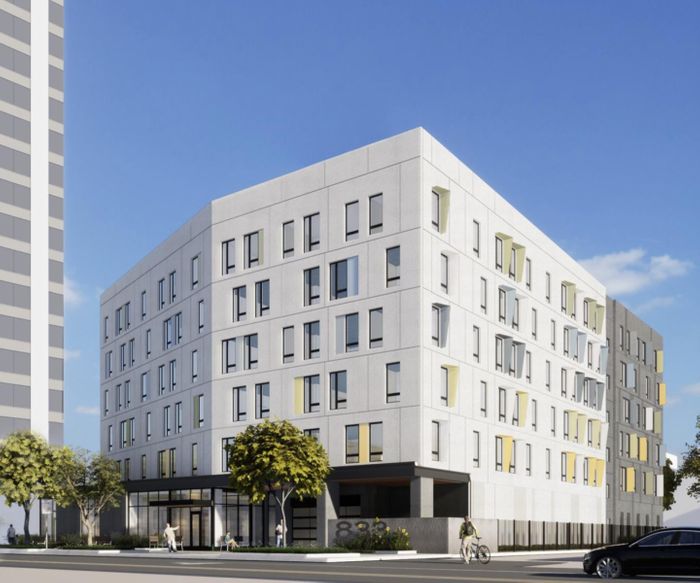 Brinshore Development recently celebrated the groundbreaking of Stephens Commons, their long-planned affordable senior housing project in Uptown. Located at 833 W. Wilson, the project site is currently a vacant parcel just three blocks from the Wilson CTA L station.
Expected to rise six stories, the new project will provide 73 units designated exclusively for seniors. The unit mix will offer 10 studios, 49 one-beds, and 14 two-bedroom apartments. All of the dwellings will be deemed affordable, with an income-averaging strategy. This means that 20 units will be for those making at or below 30% AMI, 34 units for those at or below 60% AMI, and 19 units for those at or below 80% AMI.
Tenant amenities will include a resident lounge, outdoor walking area, community room, and expansive roof deck. The community room will open onto the roof deck on the second floor. 44 parking spaces will be included on the ground floor.
With Landon Bone Baker Architects on board leading the design, the building features a structure of structural precast concrete wall panels with painted infill panels. The massing sets back along W. Wilson Ave on the second floor and becomes an L-shape, allowing for the creation of the amenity deck. Trapezoidal sunshades will shield windows along the western elevation.
The $42.1 million project will be funded through Illinois Housing Development Authority funds and owner equity. The resident's association of the adjacent Lakeview Towers are partially funding the project as well. With ground broken and full building permits issued back in April, general contractor Linn-Mathes can launch construction and work through completion.
Read more on URBANIZE Chicago
Attend Chicago Build Expo, the largest construction, design and real estate show for the Midwest. Gain access to 12 conference tracks and AIA CES approved workshops, check out 250+ exhibitors, learn from 350+ high-profile speakers and connect with 20,000+ built environment professionals.