07 Sep 2022
Bears Reveal Initial Masterplan for Potential Arlington Heights Complex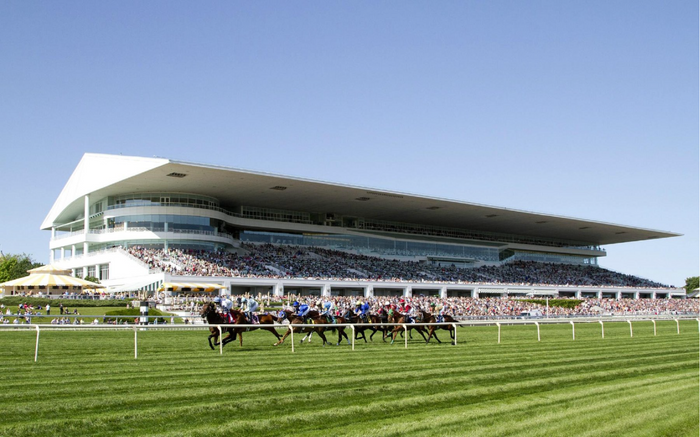 Initial details have been revealed for the potential sports and entertainment complex for the Chicago Bears at 2200 Euclid Avenue in Arlington Heights. Located just south of the intersection of Highway 14 and 53, the proposal will replace the now-closed Arlington International Racecourse if the team chooses to pursue its departure from Soldier Field downtown. The Bears and their soon retiring president Ted Phillips are working with San Francisco-based architects Hart Howerton on the conceptual masterplan.
Horse racing has been a popular sport in Chicago since the 1830s and at its peak the city held the most race courses for any metropolitan area, with the Arlington racecourse opening in 1927 and hosting the first ever thoroughbred race with a $1 million purse in 1981. In 1987 after the original facilities burnt down, the owners tapped SOM to design the new grandstand which holds 35,000 seats and features a 200- by 600-foot cantilever roof believed to be the largest in the world at the time. More information on its opening and facts can be found here.
In 2000, the course merged with famed Churchill Downs Company who operates the Kentucky Derby, but in 2021 it closed after nearly 100 years of racing. With Soldier Field having the smallest capacity of any NFL stadium at 61,000 seats, the team entered into a $192 million purchase and sale agreement for the grounds in late 2021. However it hasn't been an easy ride with the city proposing a new design for Soldier Field and locals petitioning for no public funds to be used in either outcome. But if finalized, the move into a much larger enclosed stadium will allow them to host a Super Bowl, playoffs, and Final Four games.
Roughly 30 miles northwest of their current home, the plan will redevelop the 326-acre site into a massive mixed-use complex anchored by the new stadium most likely designed by MANICA Architecture who worked on Allegiant Field in Las Vegas. Although the master plan is a work in progress, it is split into two main districts by a large set of lagoons due to various creeks and reservoirs flowing through the site for flood management. These will be traversed by multiple new bridges allowing for crowd control and separation of the two.
The northwest portion of the site will hold the new stadium, currently shown as a large massing placeholder, along with over seven parking lots and a new entry from the nearby highway exit. While no official numbers have been released, we can expect a permanent seating capacity between 65,000 to 70,000 which meets the Super Bowl minimum and is in line with the two newest NFL stadiums including the $5.5 billion SoFi in Los Angeles. This will most likely be temporarily expandable for major events and feature large retail and dining elements with modern VIP boxes as well.
Across the bridges will be an expansive new mixed-use district anchored by a linear park offering sightlines to the stadium. With a varying degree of density and building heights, it would potentially hold multiple restaurants, office spaces, hotels, a large fitness center, and various residential structures. Residents and visitors could reach the complex via the aforementioned highway or the on-site Arlington Park Metra Station served by the Union Pacific-Northwest Line, thus the Bears are labeling it as a "transit-oriented mixed-use and entertainment district."
If fully realized, it will create 48,000 construction jobs, $9.4 billion in economic impact and $3.9 billion in annual labor income for the Chicagoland area. Once completed it would generate 9,750 long-term jobs, $1.4 billion in economic impact and $601 million in annual labor income for the region. In annual taxes it could deliver $16 million for Arlington Heights, $9.8 million for Cook County, and $51.3 million for the state. It should be noted the Bears are the fifth most valuable team in the NFL worth $5.8 billion, with a revenue of $520 million and a two percent debt/value including current stadium debt according to Forbes.
No cost has been announced at the moment for the new facilities, but the team has expressed it will not seek public funding for the stadium and its parking, it will however partner with 'various government bodies' to build the rest. No formal decision on whether they will move has been made as a purchase of the land does not guarantee it will be developed, but the team expressed it will not pursue any other stadium sites nor the renovations of Soldier Field. While the current contract has them locked in until 2033, starting in 2026 they could end it early for an $84 million payout.
Read more on Chicago YIMBY
Attend Chicago Build Expo, the largest construction, design and real estate show for the Midwest. Gain access to 12 conference tracks and AIA CES approved workshops, check out 250+ exhibitors, learn from 350+ high-profile speakers and connect with 20,000+ built environment professionals.